I saw this post on a facebook group, asking, what is the name of your boat and why. It made me realize I never posted this draft in how Ah Ma became Ah Ma. And as we are still stranded on Curacao, waiting for engine parts I thought let's finish it up and share, so here goes..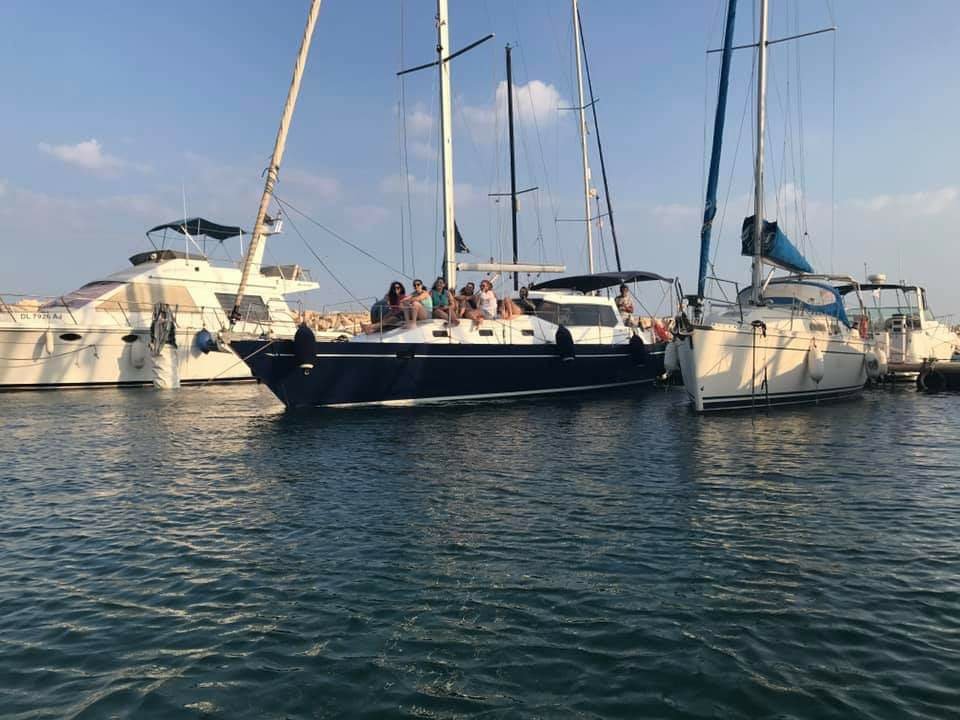 The first boat we ever seriously looked at was about 2 years ago, located on the lovely island of Cyprus. The owner posted a simple photo and one liner 'for sale 0 eur' on one of the facebook groups. O dear, that was a mistake. The internet trolls jumped at him en masse. How dare he post something so vague. But I saw something that others had missed in their compulsive need to correct other people and leave that al so important mark on the eternal pages of facebook. The photo that accompanied the post showed an immaculate blue hull and the distinctive lines of a van de Stadt design. For those of you who don't know van de Stadt, they were the crown jewels of Dutch sailing yacht design and building. I needed to know more..
So I sent the poor bloke a pm on that horrid thing called facebook messenger. It didn't take long for the guy on the other end to reply. English was obviously not his native tongue, and the details of sailingboats where are a mystery to him. Strange for an airline pilot, but anyways I started asking the basic questions, how many hours on engine, maintenance history, and for me very important thing, what's the standing height in the cabins and salon. The responses from my new friend on the other side of the interweb where vague. He desperately wanted to prove he actually owned the boat he knew so little about. Silly details like 'leather beds', glass table and joystick to drive the boat where the things he kept coming back to. The whole conversation lasted for a couple of weeks, in broken English and waiting for days on simple details because of silly excuses. But somehow I believed him, and I was close to booking a ticket to Greece (or Turkey) to make the trip to Cyprus. After asking about ten times about standing height I finally received the architectural drawings (which showed nothing) and many assurances it was 'big'. Then finally he did some measurements himself, and came up with 1.9m, which is just far too low for my 2m posture. So eventually we blew the visit to Cyprus off and kept on looking. The whole episode reminded me of an episode of Ted talks where some guy gets in to an elaborate email exchange with a Nigerian Prince named 'Solomon', so in the back of my head, the van de Stadt had a name already, SV Solomon..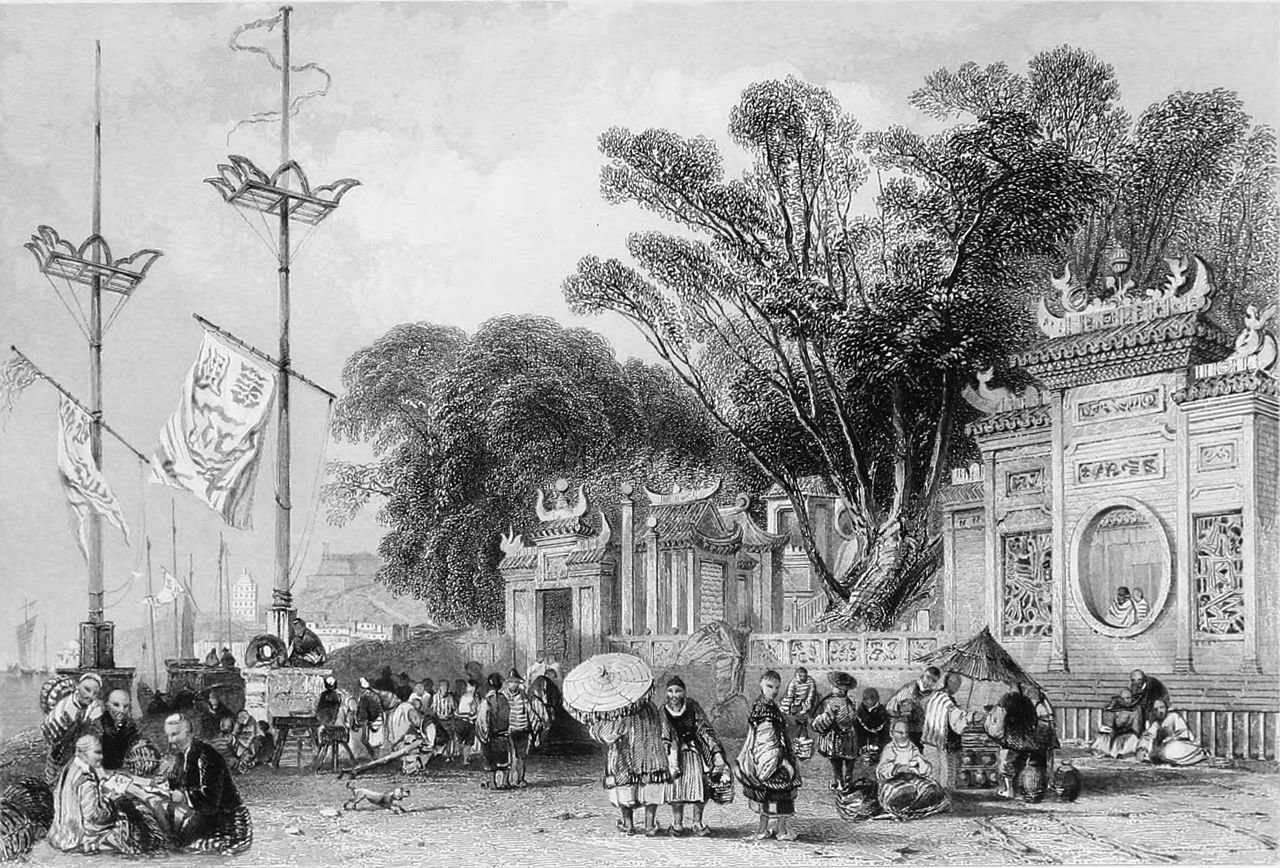 Now we finally have found our fitting boat, and somehow Solomon didn't sound right for her. Strange how that works, how quickly a grp shell with an aluminum mast assumes an identity. For Ah-Ma we turned to the history of Linda's home town of Macau. A traditional fishing village that turned into a gaming megalith that shadows Las Vegas on everything dollar- and size wise. The fishing village was protected, like every fishing village in the south of China, by Matzu, the goddess of the seas and oceans. For some odd reason, probably too much beer and wine, this name turned into Ah-Ma for the natives of Macau. Ah Ma litteraly means as much as 'old lady'.
The Portuguese visitors on their turn, filled with Rum and Port, took this name to form the name Macau. When they stumbled of their boats on the shores of Macau, they asked the local villagers, where are we? They pointed to the Ah Ma (Matzui) temple and said 'Ah Ma kok' (the old ladies temple), and so Ma-Kok, eg Macau was born..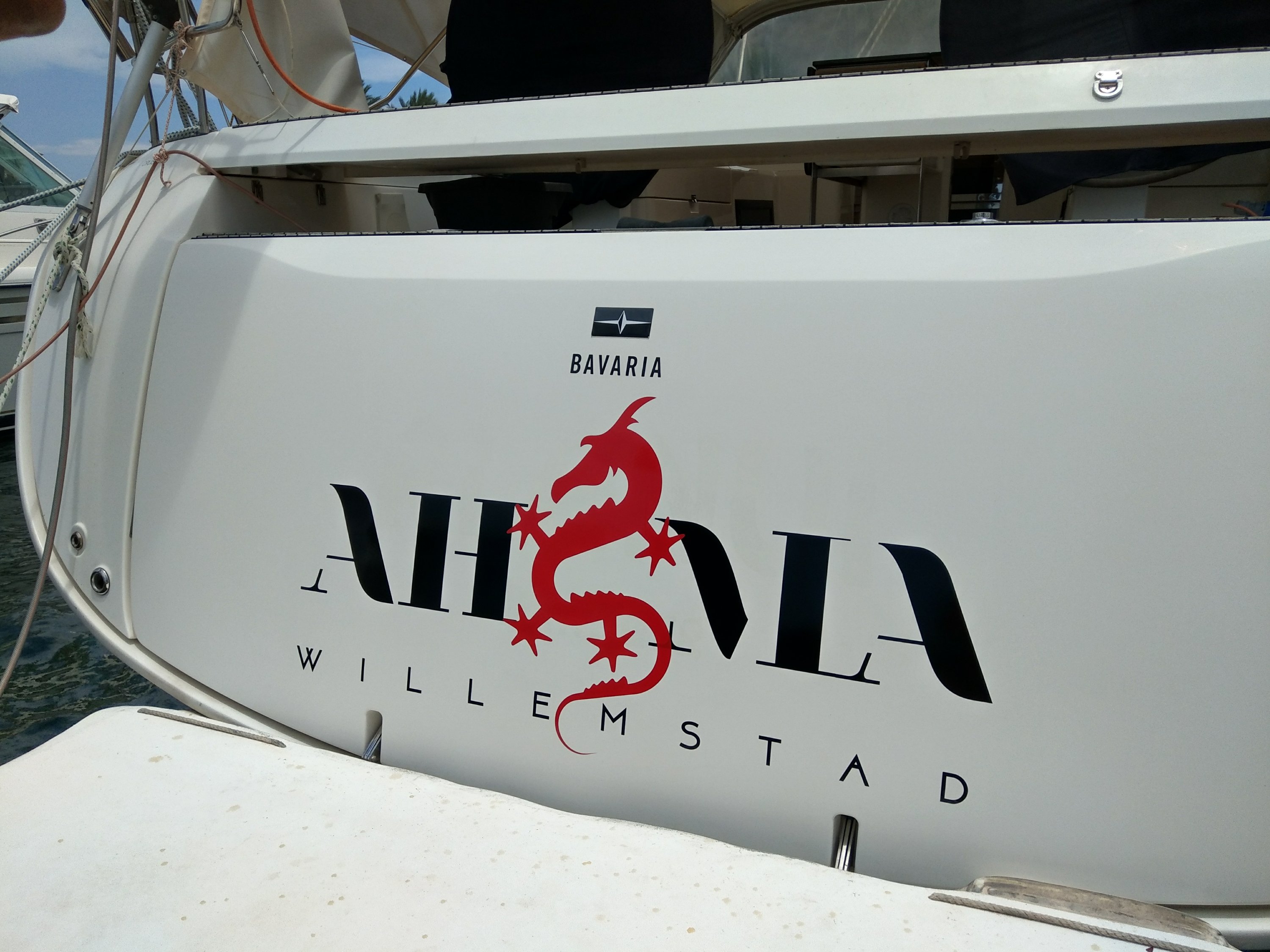 As you can see, loads of alcohol infused moments turned Matzu to Ah-Ma, so in my opinion a perfect name for our home away from home. Somehow her high freeboards, overall size and sleek modern lines project confidence and strength, like the goddess.
Now we have to make this formal and ask Poseidon to scratch the old name from its records. We would need to remove every reference to the old name from the boat, so I won't even write it here, as a digital copy of this article will remain somewhere on one of the many storage devices that accompany us on our journey ahead. I will glue a very special coin under the mast to please the gods, and of course spill some very fine champagne (or whiskey) to the salts. I think that ought to be enough for safe passage to the east..