Travel used to be fun and games. but in 2022, it has been reduced to anxiety and annoyance.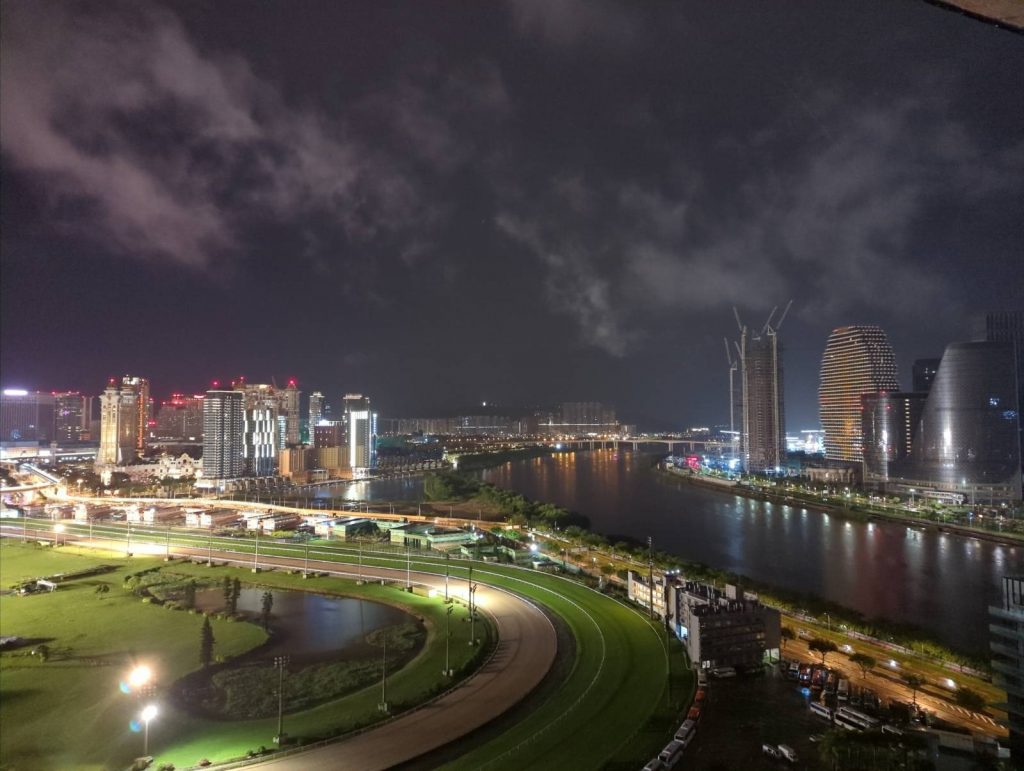 Normally we planned trips a couple of weeks or sometimes days in advance. With Macau having a great and small regional airport we could easily arrive about 40 minutes in advance for our flight and still have ample time to get on board. And for long-haul flights it was just a 45 minute trip with the ferry, straight into Hong Kong international airport. Those days are gone my friend…
In these days of plandemic madness I had to start planning the trip to New Zealand months in advance. First there are the ridiculous vaccine requirements for entering New Zealand. You have to be injected with a WHO approved poison to be allowed into the country. Luckily the WHO is owned by China, so the Chinese inactivated virus vaccines are on the approved list of poisons. It ends up these fake vaccines based on dead 'viruses' work just as well as the experimental MRNA ones. That is, not at all. But at least you wont get the 'rare and uncomfortable' side effects.everyone
So there I went, some 6 weeks before my planned departure to New Zealand, off to the vaccination clinic in Macau. For the first injection I went to the small clinic in Coloane village. I was the only one coming to get poisoned. Probably one of the few souls left in Macau that had not accepted the vaccine in his life. Being very careful that they did not by accident put some Pfizer or Moderna experiment in my arm I walked out after 30 minutes feeling violated.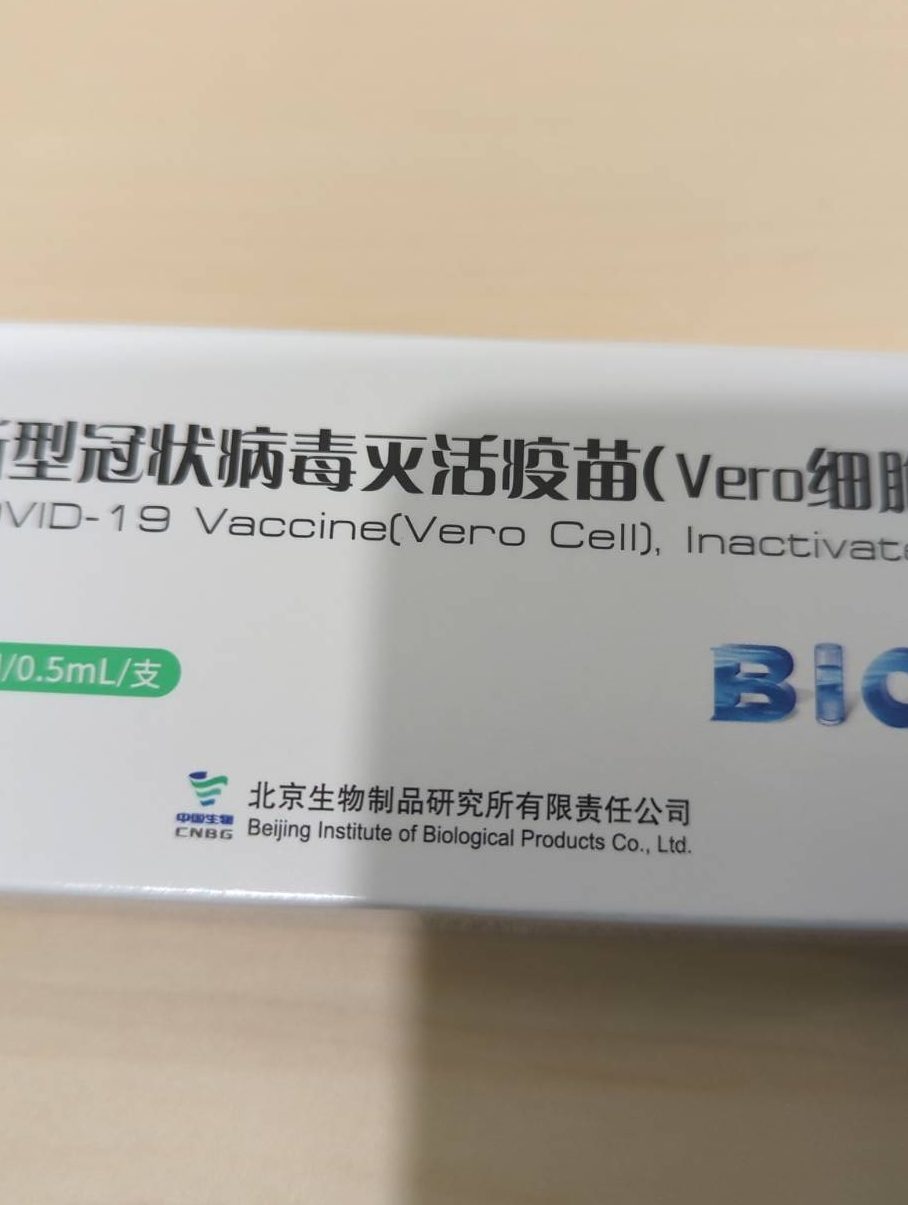 I had to wait another two weeks before I could collect my second mandatory shot. Thankfully, the Chinese have not bought into the whole boosting scam yet, so two shots was all I needed. The second shot I took at the University hospital, as this is closer to my home. There the waiting room was filled with parents that brought their children to participate in the great experiment. Honestly, I felt sorry for those kids. They would most likely be injected with some MRNA thing, and who knows what this will do to them in the years to come. All for a disease that has a negligible effect on children, or healthy adults for that matter.
Anyways, enough about the vaccine madness. I was now almost legal to enter the promised land of Arden. All that I needed now was a negative PCR test, a valid health insurance, a New Zealand electronic VISA and a permit to enter New Zealand based on the test and vaccine reports. I mean, seriously, what is wrong with the world, you used to just show up at the border, sometimes pay twenty dollars for some visa stamp and be on your way.
The electronic visa and the permit required some spyware app to be installed on my phone to enter the necessary details. All so easy and so helpful. Luckily I invested my time in installing GrapheneOS on a Pixel/6, so I can install these spyware apps safely in a shielded partition. Not that I have much to hide, but I just don't want to enable this globalist big tech utopia.
The week before my departure I felt like I had a cold, it was probably a from of Covid, although this does not officially exist in Macau. All and all, it dissipated after a couple of days, just like any flue and it was absolutely nothing to worry about. Well, in a way it was. I had to take a PCR test the day before my departure. And there was the small chance that this would turn out positive. But then again, this would never happen in Macau, as Covid doesn't exist there, so a local case would destroy this illusion. Therefore it is my belief that the PCR testing in Macau is done at very low cycles, just to not find anything that would rattle the cage.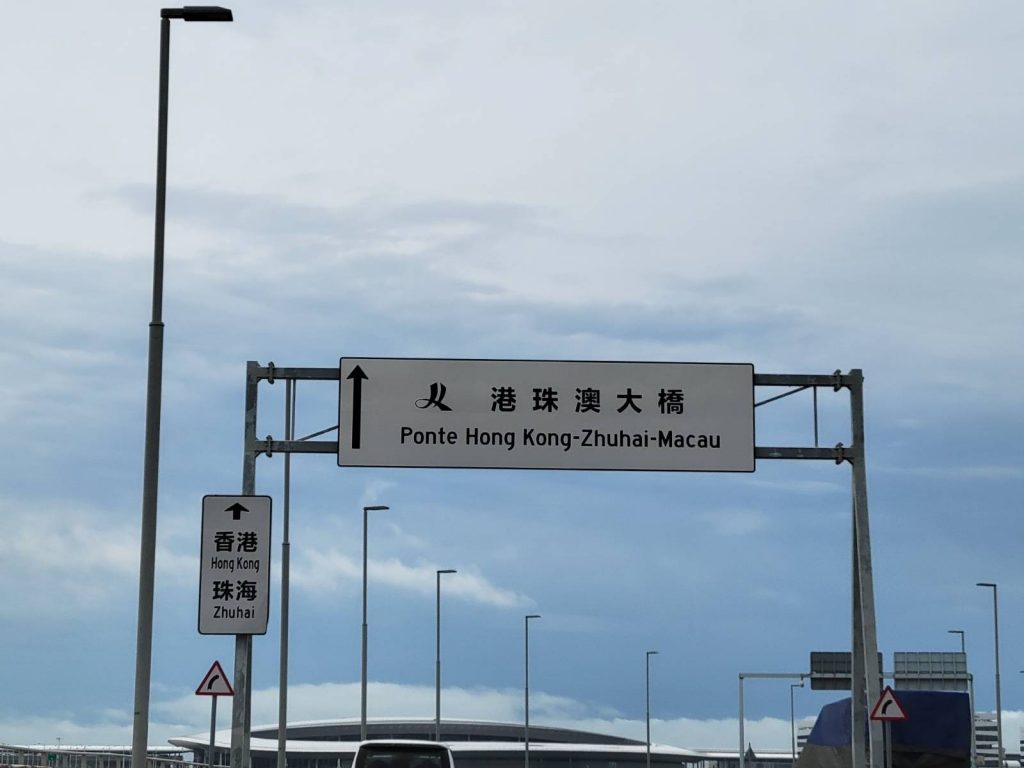 The test was indeed negative. so I was clear to head to the airport and board my plane. But getting to the airport was not the usual taxi or ferry ride. No, I had to take the bus on the Hong Kong-Zuhai bridge for the first time in my life. This bridge between Hong Kong, Zuhai and Macau is an absolute joke. A project to show the world how much money the CCP can waste on a useless infrastructure project. Billions spend on a bridge that only a select few are allowed to use. And that is during normal times, during Covid times it is just a couple of buses and some Chinese license-plate cars, probably privileged party members.
There was only one bus from Macau to Hong Kong every day, at 3 o'clock in the afternoon. This would not connect to my flight, which was planned for 5pm. There was the option to stay in Hong Kong for the night. But Hong Kong nowadays is a very unpleasant place to be, and the risk of getting 'infected' is high there. Going a day earlier would also mean my PCR test would not be valid for the entirety of my trip. So I would need to take another test at the airport. All so much hassle and risk.
I decided to do the unthinkable and take a bus from the Chinese side of the bridge, Zuhai. I promised myself never ever to enter China again as long as the country ruled by the oppressive communist party. But same as my promise to never get a vaccine to comply with globalist conformity, this promise also had to be broken. So a couple of weeks before my departure I went to the China Travel Agency to get a transit visa. To get this visa I needed to fill in a 20 page form in which the CCP wanted to know everything about me for the past decade. My work history, travel history, who my parents are and more of such. I could have never completed this process without my wife, as she is tireless when it comes to forms and procedure.
With my Chinese transit visa occupying a page in my passport, we went off to the bridge terminal. Linda joined me as she wanted to make sure that I got through without too much hassle. And thank god she did, as there was a lot of hassle. We were the only ones crossing from Macau to Zuhai. Checking in to China went without too much problems. The Chinese entry border agent didn't know much about geography and asked about just about every stamp in my passport where this was. we indulged his ignorance and explained with a smile that Machu Picchu was in Peru and that Curacao was an island in the Caribbean. Not that he could see the smile, as we were forced to wear face diapers to prevent the spread of a disease that officially does not exist in Macau.
Then we headed towards the Chinese customs. here the trouble really started. Again we were the only people there. The three customs agents found it necessary to inspect every bag and suitcase. I packed a lot of IT stuff, as I had to bring my work with me. So I was carrying a couple of USB backup disks, 2 laptops, and Ipad and a couple of bags with cables, chargers and more of these things. I was getting annoyed by this point as the goons in uniforms had no respect for the fact I was only in transit so the stuff in the suitcases would not even enter China. I ended up missing the planned 11:00AM bus to Hong Kong by 10 minutes, so we had to buy a new ticket.
Next stop was the exit of China aeveryonend permit for entry into Hong Kong. Again not an easy process. Linda was allowed to join me up to this part so she could deal with all the different QR codes and Chinese spyware apps that were needed to be used to generate these. All apps where in Chinese, even-though English was selected, typical. Eventually I got a couple of screenshots of QR codes and a new bus ticket for the 12PM bus. Here Linda and I said our goodbyes, as I had to pass through border control again to leave China for the very last time.
The border agent was confused and took her time to realize I was only transiting, and came from Macau. She didn't speak a word of English. But after showing her all the QR codes, which according to her all seemed incorrect and my Macau and Hong Kong ID card, I was allowed to escape China, finally.
I was just in time to collect my bus ticket form a girl sleeping behind her counter and get on the bus. One last unpleasant Chinese encounter in the bus where a goon in full hazmat suit screamed instructions in Chinese to move to the upper section of the bus. But after all that, the bus was finally on it's way. leaving China behind and heading towards the occupied territory of Hong Kong.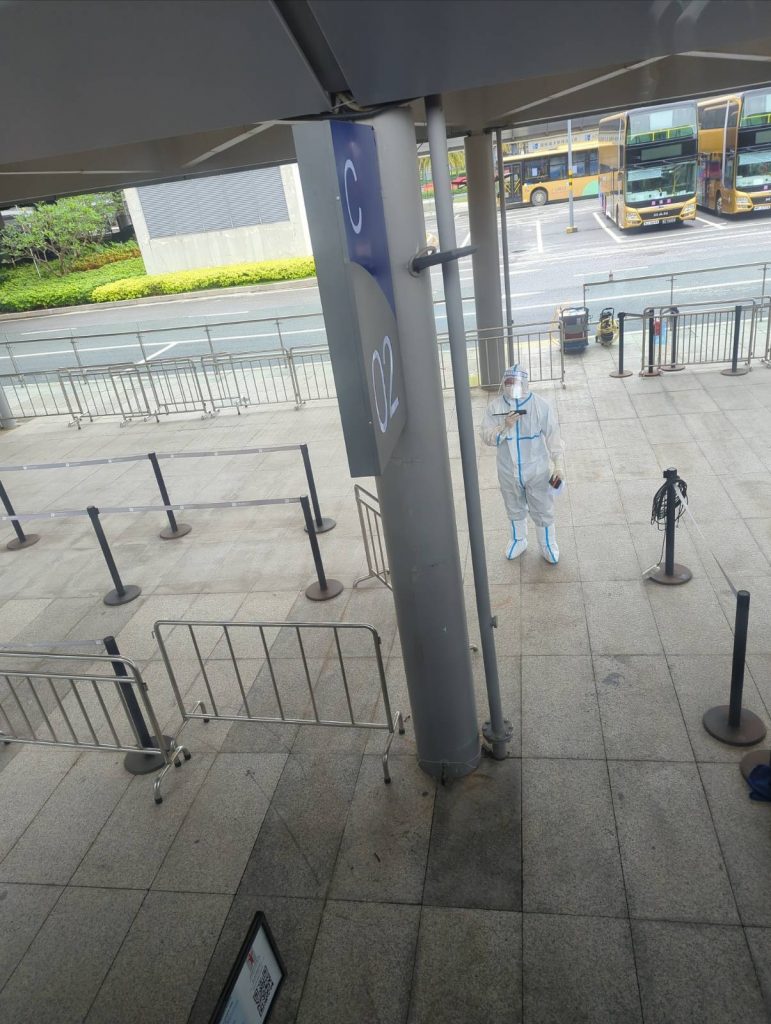 Here my sister in law was waiting to pick me up. But first I had to get some Hong Kong government spyware on my phone to scan the Hong Kong QR codes. My Macau vaccine record and test result had to be imported into this app. A process that was completely handled by very friendly and fluent English speaking border bio-security staffer. Such a difference from the growling, screaming and snorting Chinese officials on the other side of the bridge. Good to see that some thing in Hong Kong have not changed, yet.. With my approved QR code I was allowed to cross into Hong Kong. The customs officials could not care less about the content of my suitcases, and the border official welcomed me with a 'welcome back' after he verified my brand new permanent ID sticker in my passport.
My brother and sister in law drove me to the Hong Kong international airport. A 5 minute drive from the bus terminal. But as there are hardly any people using the bus, there are no taxi's or other forms of transport available. Hong Kong international was a place we once visited almost every month for a trip to somewhere. But now the place had an eerie feel to it. Very empty, only a hand full of flights on the board. Everyone hiding behind their facemasks and most outlets closed.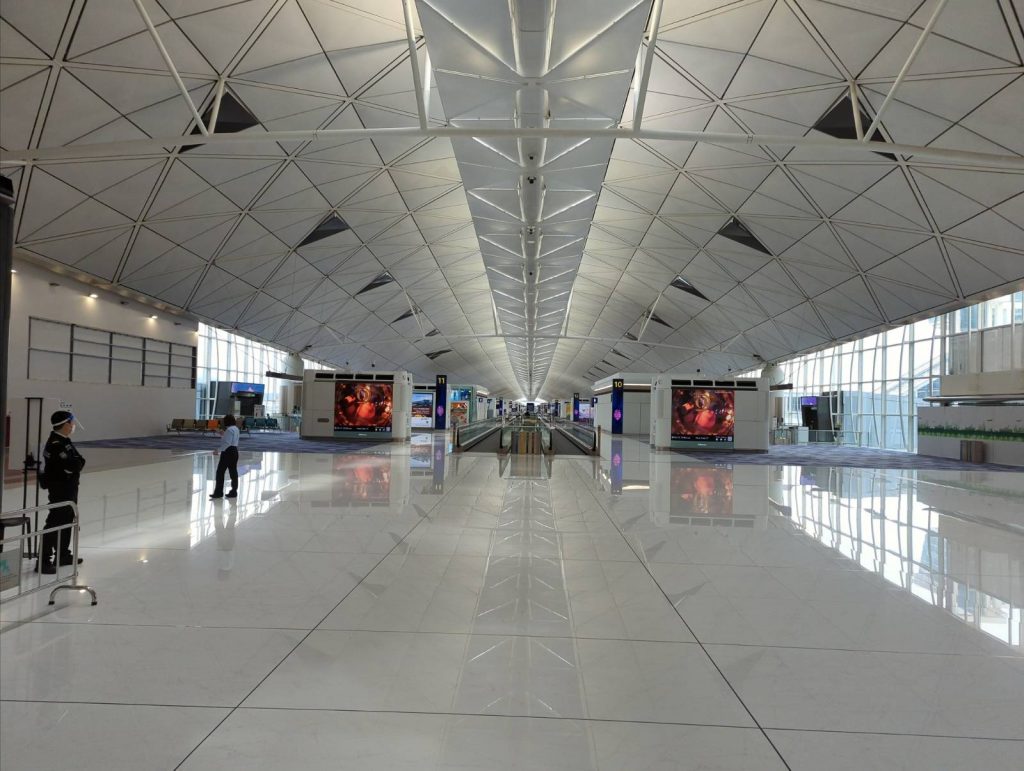 At the airport counter all documents for entering New Zealand where checked. Very inefficient, as the New Zealand entry approval already verified vaccine and test results. But still all documents needed to be presented to the airline staff together with a proof of onward travel. Explaining that you leave with a boat to an airport check-in stewardess is quite a hassle, so I arranged a 'fake' onward ticket from bestonwardtickets.com. A very convenient solution in this situation. It saves endless discussions and eventual delays. Still the whole process of checking in to the flight took about half hour.
I immediately passed though customs onto the gates as I was hoping to find a chilled beer and some food at the airport lounge. I booked my Fiji airlines ticket through Cathay Pacific, which still has one lounge open at the airport. All the way in the furthest corner, at gate 64. I decided to take the long walk instead of the shuttle train. Arriving at the lounge the Cathay staff showed themselves at their 'best' hospitable side. I was denied entry as they did not recognize the code shared business-class flight as one of theirs. I was annoyed of course, but what else can you do than tell them off with no change in the end result.
I walked a long way back to find the only shop open that sold some form of liquids. I bought a water and a juice and decided form now on I was done with this dumb face diaper. I sat for a while to rest and then walked back to my gate maskless, with my bottle of water. Occasionally taking a zip, so technically i am consuming a beverage. You saw some people look, but no one made a comment. I hope I inspired some people to do the same, as this madness will only stop when we all don't go along with it any more.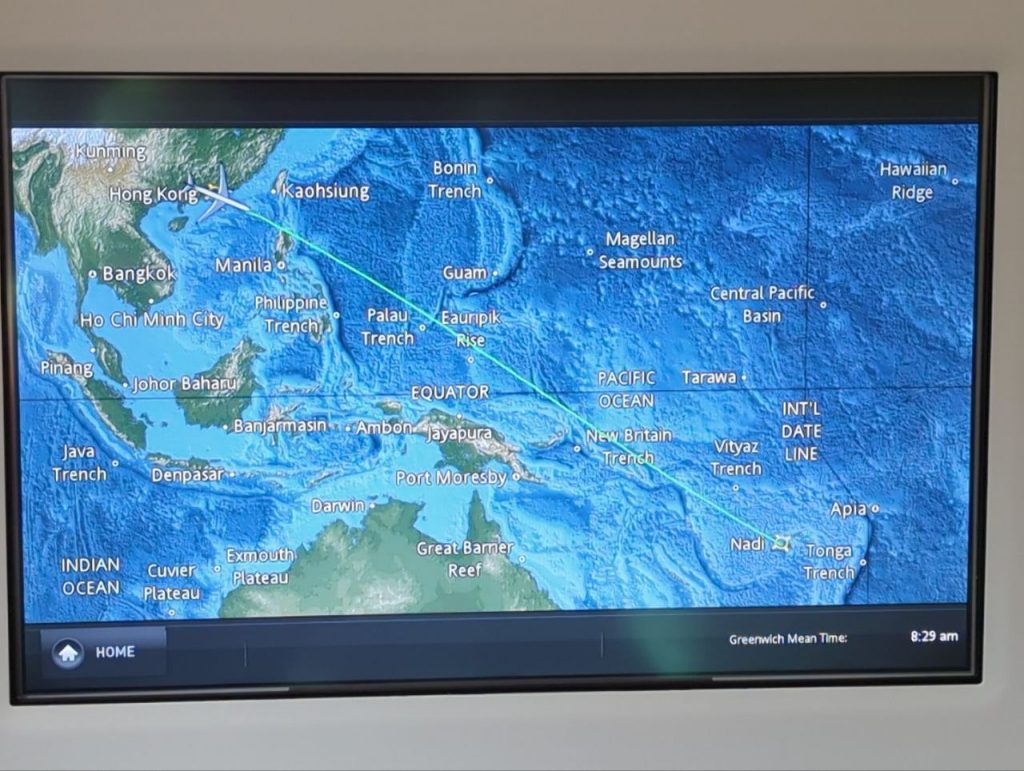 The Fiji airways flight to Nadi/Fiji was uneventful. I had my favorite seat, 1A. The whole front row was empty. There were only 6 people up front, and a maximum of 40 on the entire plane. Two Hong Kong passengers entered the plane in a full hazmat suite, looking absolutely ridiculous. Their flight must have been nightmarishly uncomfortable. The seats where very 1990. Not the luxurious full flat beds, but the reclining seats. I still managed to get some sleep, so the flight ended up to be feeling shorter than it was.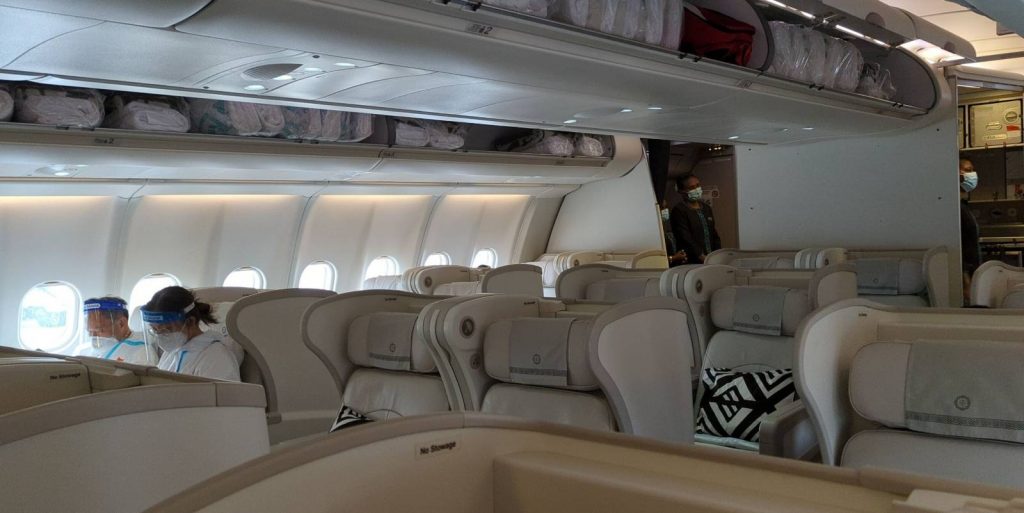 Arrived in Fiji I waited in the lounge for a couple of hours. Watching some Djokovic tennis on the big screen having a cup of coffee. The lounge did not have shower facilities, so I could not clean up as I usually try to do on stopovers during long-haul flights. In the lounge hardly anyone was masked up, but once you entered the main terminal area, most people conformed willingly, not giving it a second thought. It has become a ritual to show that you belong to the tribe, mass hypnosis.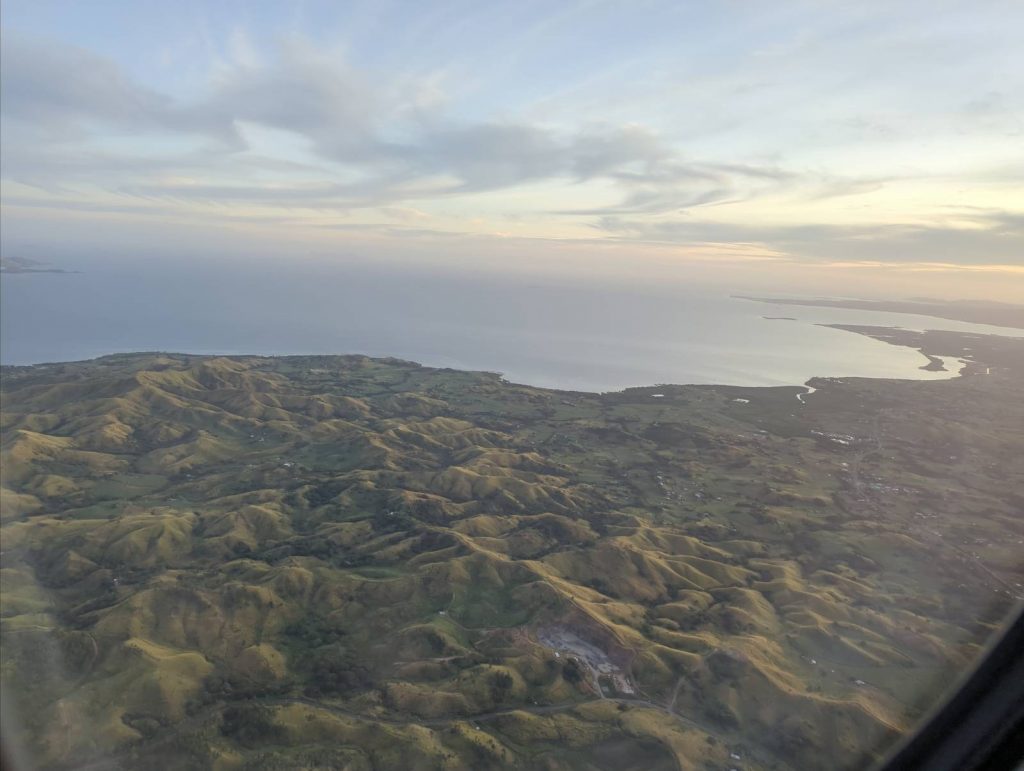 The next hop to Auckland was a quick one, just 4 hours. This flight was fully booked so the seat next to me was taken. But everything was spacious enough not to let this be uncomfortable.
Once I arrived in Auckland I had to fetch my luggage and drag it to the domestic terminal to check in to the local flight to Kerikeri. The border crossing went surprisingly smoothly. A few people were maskless, like me. Although the announcement loudspeakers kept repeating it was a mandatory requirement to diaper up. No one really seemed to care. At the bio-hazard crossing we were handed a couple of Rapid Antigen tests, free of charge. My phone already had a message, asking me to upload the results of the test.
To reach the domestic terminal we had to take a bus. Quite some hassle with the three heavy luggages. Once arrived at the domestic terminal, the luggage dance started. A friendly floor stewardess helped me check in the luggage to the flight to Kerikeri. I had to buy an extra luggage for the carry on, as it was way to heavy for the small New Zealand air planes with 7kg carry-on limits. In the end I ended up to spending more on luggage fees than on the ticket itself, but the ground staff was pleasant and fees where not exorbitant.
At terminal I waited at the airport bar, having a couple of beers and chatting with some of the other travelers. The same story everywhere, people finally able to see their family in years. The amazement about the ridiculousness of the procedures and new travel rituals. But in the end, i guess all these people voted for the people making these rules. As Jefferson wisely said, "you the the government you deserve". The bar closed at 3PM, which was kind of odd since there was no other place to go to at the terminal to wait and have a drink.
On the New Zealand air flight the stewardess was very anxious about the masks. So I put it on for 5 minutes. Then she served some water and a cookie, so everyone took the face diaper off, and it remained of until landing. The flight was only 40 minutes, so there was hardly time to hand out drinks and snacks.
Finally landed in Kerikeri the sheep covered their faces again aside from a few 'rebels'. The airport in Kerikeri is tiny, basically one little hall for departure, arrival and luggage. Here Jo, the mother of the owner of my AirBnb was waiting for me. I was knackered after more than 24 hours of air travel. Jo took me straight to the Opua yachtclub, where we had a glass of wine whilst I was waiting for my boxed dinner. I was introduced to everyone at the table, but was to tired to make a good impression i think.
Arrived at the house, I jumped in the shower, ate my dinner and passed out for a good nights sleep..
---