Upon arrival I was greeted by a charming elderly lady, the mother of the hostess hosting my Airbnb. She brought me straight to the marina where I and Ah Ma met for the first time in two years. I can't describe the emotions running through my veins when I first laid eyes on her. People say the happiest days of your life are when you buy a boat or when you sell it, are just wrong. I am so happy we did not sign the papers and sold her a mere three weeks earlier. She was lying there in mouth of the river, collecting massive amounts of molluscs on her bottom, waiting for me to get her back into shape and continue her journey.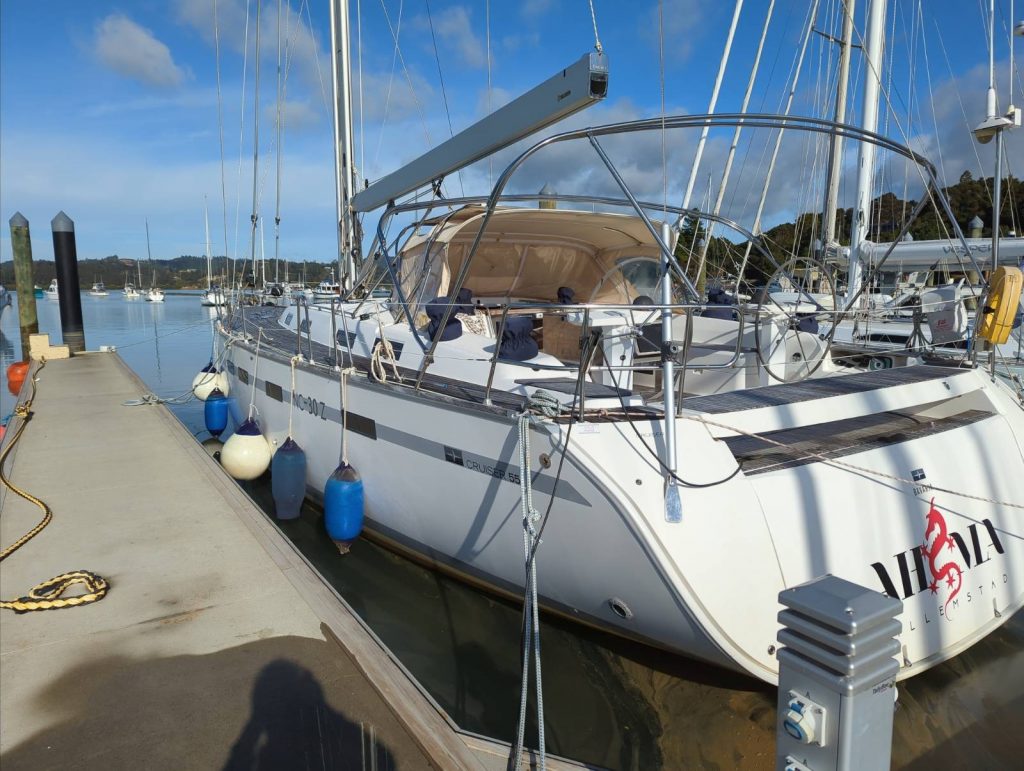 As light was fading and the little town of Opua has little to no restaurants or other facilities, we went to the yacht club to pick up my evening dinner. It was the only place open in town  that evening. Immediately I found the welcoming spirit of complete strangers. I was introduced to many people of whom I don't remember their names. I just spent a full 24 hours in airplanes, airports, customs checks, covid checks, paper checks and more, so I was quite toasted. With a box of spareribs as my bounty we headed to the apartment, my home for the coming weeks whilst I try to get Ah Ma livable again.
The Airbnb of Kerry and Phil was simple, yet warm and welcoming. The lower part of their lovely home perched atop a hill. It had all luxuries required, a living room, full kitchen and comfortable bed. I ate my spare rib dinner and turned in for the night. 
The next morning I started a hike that I would do for the next week, down the hill, turn left onto the old train tracks, walk along the trail for a couple of minutes, and then I arrived at the work dock of Opua marina. Just a 5 minute walk. Down the hill was easy, but coming home, up the hill is good cardio.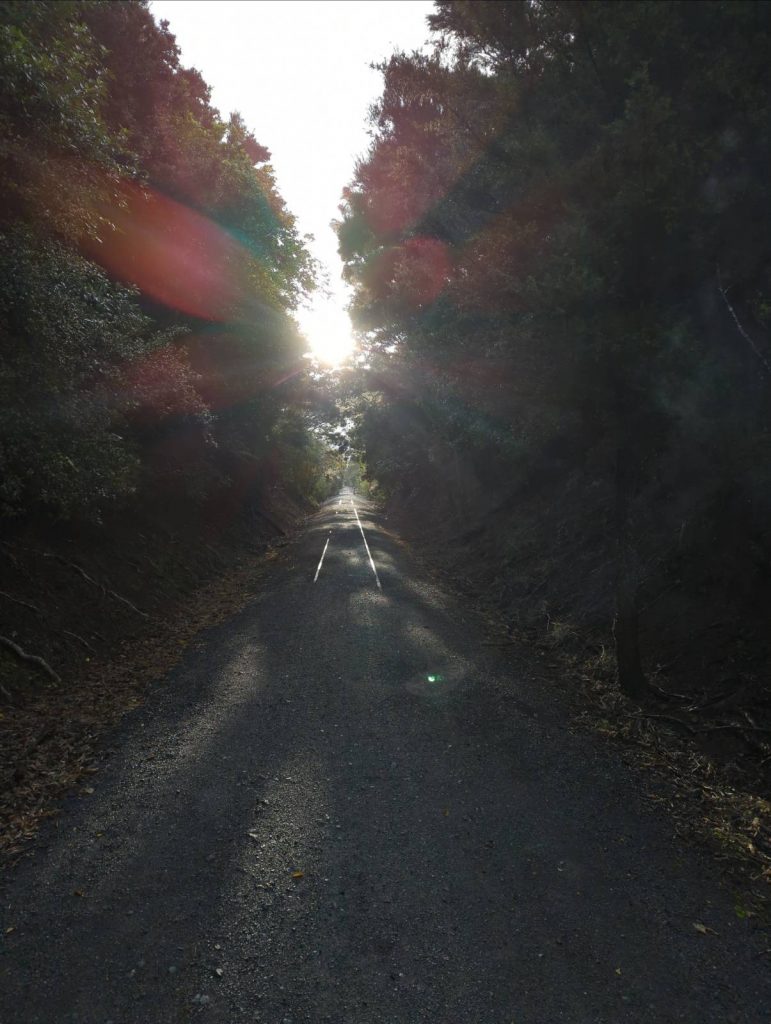 I spent the first weeks cleaning up every nook and cranny of Ah Ma. As she was up for sale just a couple of months ago, she was 'staged'. So all visible surfaces were sort of clean to the eye, But when you looked a bit further, cleaning was definitely necessary. I opened up every hatch and cleaned everything I could reach.I found food supplies from two years ago, expired medical supplies and all sorts of bits and pieces I didn't even realize we had.
Renting a car for the coming months would be a very expensive undertaking. So I scoured Facebook and the New Zealand version of eBay, Trademe. Eventually I ended up with a recommendation from my landlord. Someone that she knew at the local convenience store was selling a car. This ended up to be quite a reasonable deal, a 14 year old Toyota Camry with 200k on the counter. But it's a Toyota, so what could go wrong? Without too much haggling we exchanged money for a car key over a cup of coffee. I am now mobile.
My first expedition was for groceries. The closest supermarket is in a nearby town called Paihia. A 10 minute drive down windy coastal roads. At the supermarket most people still wear facedaipers. But I noticed some that didn't. Mostly ethnic New Zealanders that can't be bothered with the rules of the cuckoo New Zealand government. This encouraged me to follow their example and get rid of the suffocating piece of cloth. No one seemed to be bothered about it, and no armed police came to throw me in a Covid camp. So far so good. The Supermarket (Countdown) has a reasonable selection of foods and wines. I found it remarkable to see that local regional NZ wines were more expensive than imported wines from Australia and even South Africa, and not by a few dollars.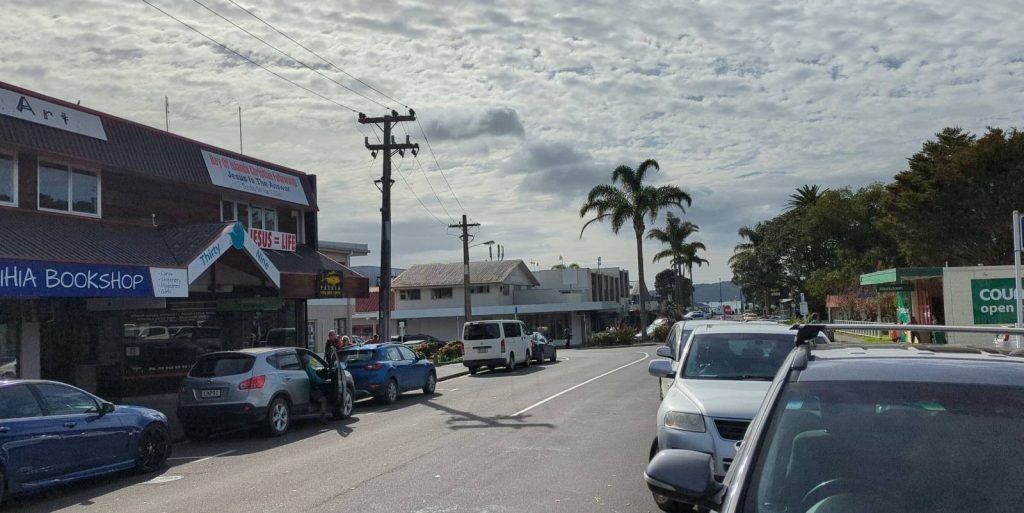 The Opua marina is quite large, around 10 piers with around 25 boats on each when filled up. I am located at the far end, K pier, a part of the work wharf. In the bay there are a couple of dozen yachts moored on poles or mooring balls. Quite a few people live aboard in the marina and on the poles.
It is a 10 minute walk from my pier to the convenience store and the yacht club. These two form the center of town, the convenience store sells good coffee, and acts as a small supermarket for necessities. They also sell homemade pizzas from Wednesday to Sunday and acts as a post agency, to receive parcels for the people living on the poles.
The Opua yacht club is open from Wednesday to Sunday. They serve cheap draft beer and a very reasonably priced dinner. There is always a table of local skippers that keep to their own and don't mingle too much with the sailors passing through. Still there is always someone to talk to and exchange stories about journeys and the perils of boating. I've met quite a few interesting characters over a beer in the past weeks.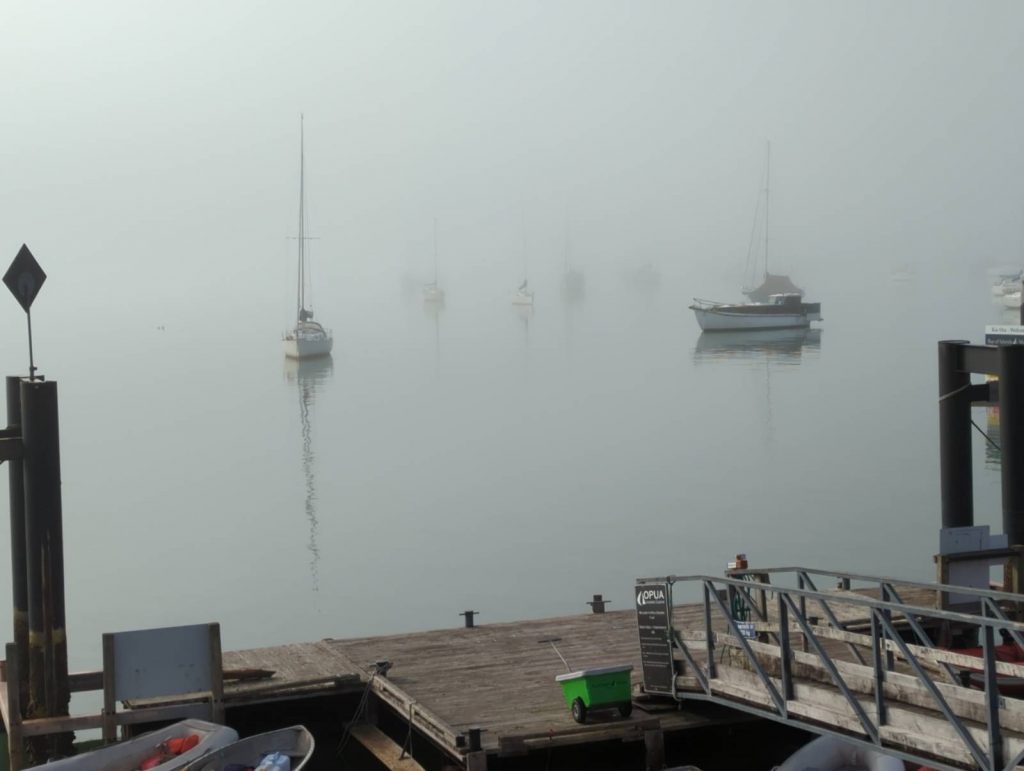 After two weeks of cleaning and reorganizing every nook and cranny I  was finally ready to move abroad. One little problem, every device aboard that would supply heat aboard has broken down. The reverse cycle AC that was 'repaired' back in Curacao had its relay switch fixed to heat, as the part was not available in Curacao. Who would need heat from the AC anyway we thought back then, we have two diesel heaters aboard right?. Ah yes and no, the two Webasto diesel heaters have rotten fuel pumps, so these need to be replaced when the parts are available. 
I also found the boiler popping the shore fuse and the 220v distribution panel having gremlins. Finn, whom has been doing the odd jobs on the boat whilst she was holed up in the Marina, came by to say hi as I was hunting the gremlins in the wires. Together we had quick look at the 220v distribution panel. It seemed that when the circuitry behind the power rail was in its housing, voltage dropped down to 100v. Strange behavior, possibly due to connection faults, not that we could see any. I took the circuitry out and brought it to the apartment to spend an hour to re-solder all paths in the circuit. This seemed to do the trick, once reassembled the voltage meter shows 230v again. Victory!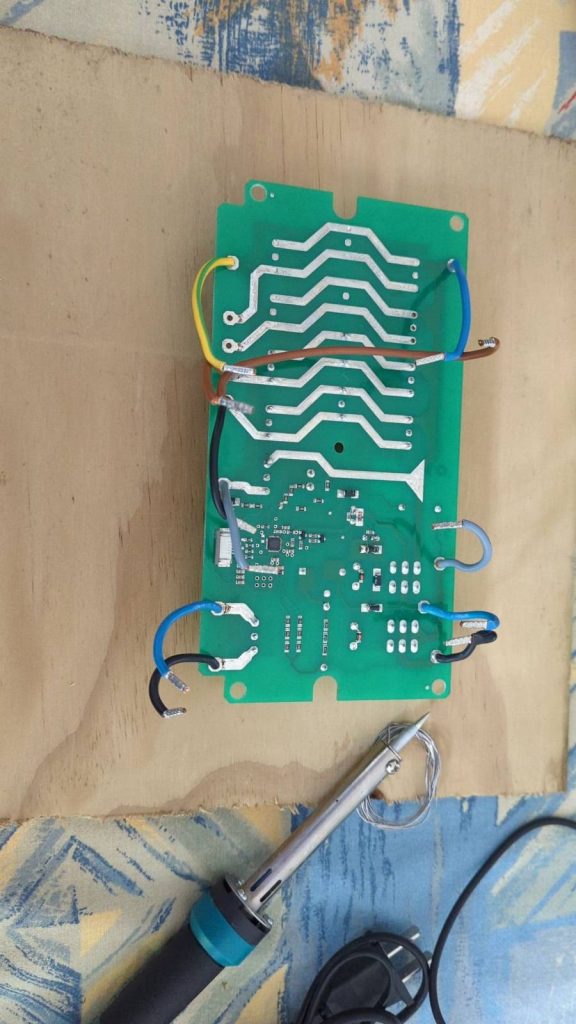 The boiler was a simple replacement of either the thermostat or the heating element, so I ordered both from the local electric marine store. quite a bit more expensive that online prices, but at least it would be available the next day. It was quite a struggle to get the element and thermostat out in the confined space below the bunk of the port crew cabin. But with some persistence and a new wrench I succeeded to swap the element and thermostat. The old element looked just fine, and measured as good.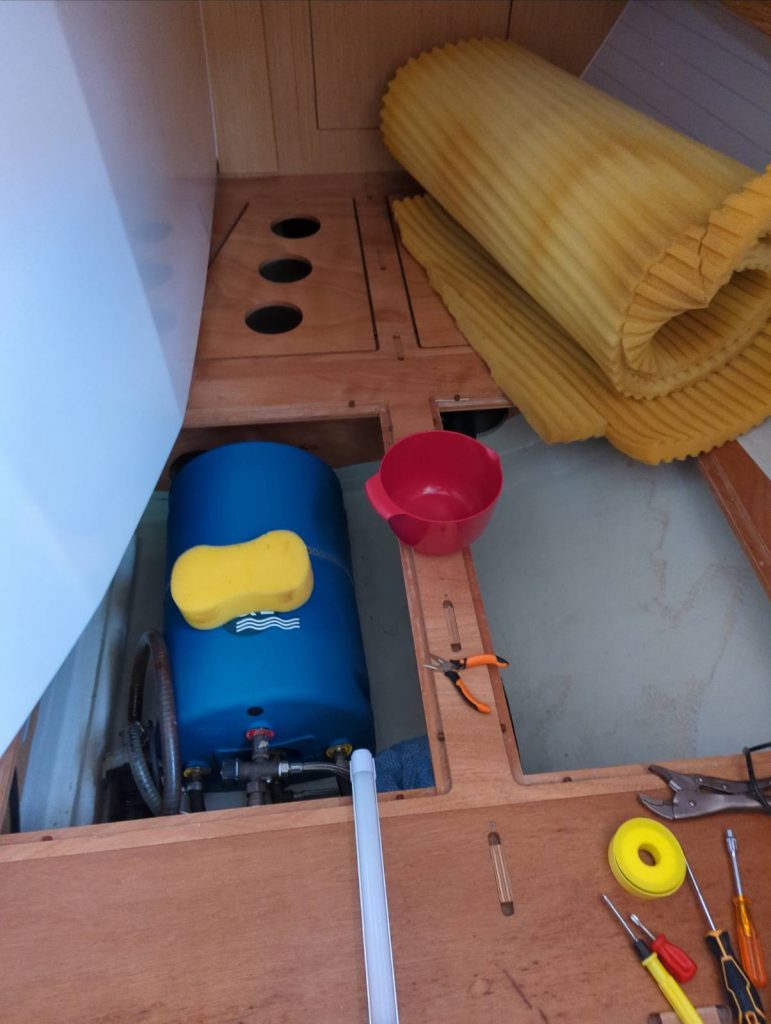 With warm water and power sorted I headed off to the nearby town of Whangarei, around an hour's drive up South. It is a sleepy industrial town, but quite a bit larger than Kerikeri and Pahia. There are many larger stores there, among which a Harvey Norman. Online I found a suitable replacement oven for the one that was destroyed by the coffee making skills of our delivery skipper back in Panama. The unit seemed to be a perfect fit. So instead of ordering online, I drove out to the store to have a look, and buy an electric heater to serve me whilst I am waiting for parts for the webasto.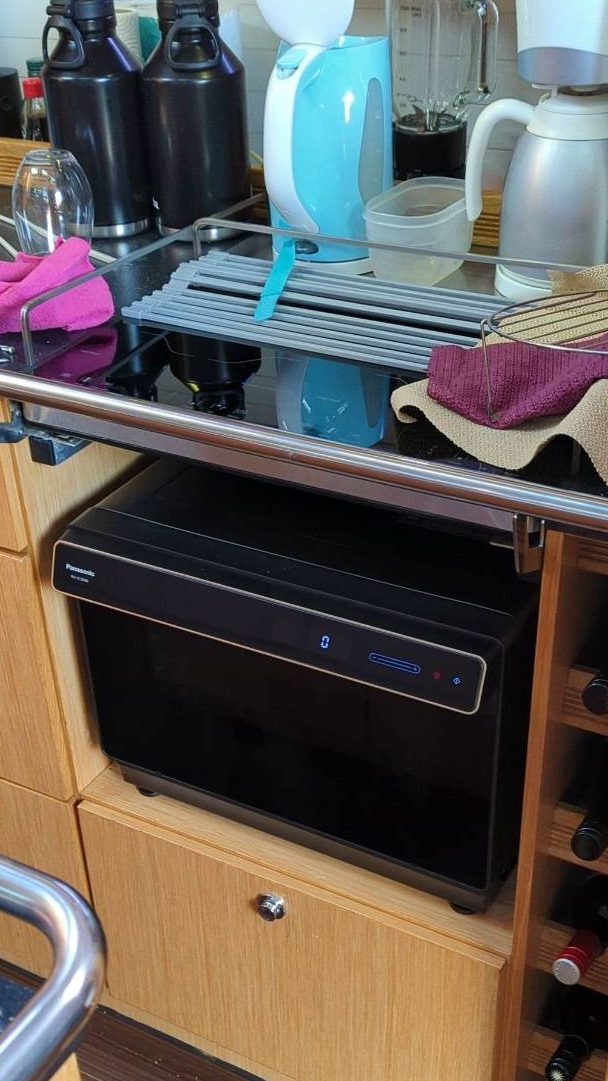 Once the boat is mobile again, I might move her up to Whangarei for the bottom job, as the town has more to offer and the craftsmen seem to be more reasonably priced. But for now I am still waiting on the required parts which have been sitting with NZ customs for weeks now..

---