After around six weeks of hoping for a flight to New Zealand to return to Ah Ma, we realized there would be a very small chance of this happening. Ah Ma had safely arrived after a very rough passage. She endured a lot of damage due to the irresponsible push to leave as quickly as possible and push through rough weather. All because the crew was afraid that they possibly had to go into a mandatory quarantine upon arrival in New Zealand. An unnecessary decision that cost us dearly. The sails were thorn, although these were not in the best state any-ways. The sail locker on the forestay was submerged with a mix of diesel and seawater, and so was the bow thruster, which was effectively ruined. All the portholes were leaking, causing the interior to be soaked with seawater.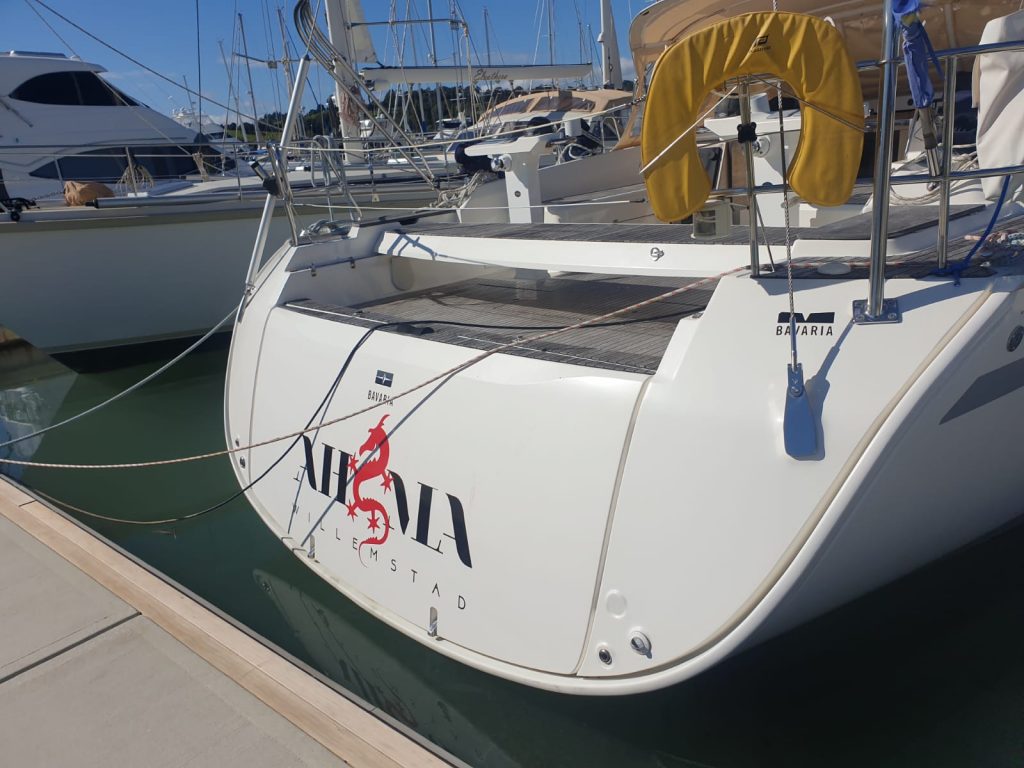 As expected, our crew abandoned Ah Ma the moment they reached the Marina and left her there to her own devices. At first the skipper offered to stay on for a bit to attend to some of the maintenance that needed to be done. But in style, he withdrew that offer the moment he reached the safe harbour of New Zealand. For the better, as I didn't want him to be living on my boat for a moment longer than absolutely necessary. Luckily I found some trustworthy people through the interweb that could take care of Ah Ma whilst she was docked up at Opua. This gave us some peace of mind and the necessity of urgently heading to New Zealand with haste dissipated.
Still we had to decide what to do, as we could not stay on Tahiti forever. For me, I could not stay outside of Macau for more than 6 months in a year, otherwise the possibility of applying for Citizenship in a couple of years would be impossible. But a quarantine in Macau or Hong Kong, or possibly both, seemed like an unnecessary prison sentence.
Some good news from Macau reached us. It would be possible to land in Hong Kong and then take a ferry to Macau directly from the airport, avoiding the Hong Kong quarantine on arrival requirements. We would still need to quarantine ourselves in Macau upon arrival though. But at least in Macau we would be accommodated in a reasonable hotel, the Sheraton. This seemed like the least awful option that was presented to us in many weeks. We tried to string all the necessary bookings together. Tahiti to Paris, then Paris to London, then to Hong Kong to catch a ferry and then the Quarantine. We had to cancel, rebook and rethink our plans on at least three occasions going through all kinds of different routings and scenarios. At one point we even thought about staying in Europe for a while as the only way out of Tahiti was still through Paris. But with some help from our friends on Tahiti and in Macau we managed to secure a spot on the last shuttle flight out to Paris. We even managed to get front row seats to lessen the pain of the 20 hours of flying.
On the 28 of June we would leave paradise to return to our 'normal' lives. Whatever normal stands for these days.
For our last couple of days on the Island we decided to make a little staycation on Tahiti. If we were not already on a vacation island, right? We first thought about going to Bora Bora or some other awesome neighbouring island. But as the flights and hotel deals became available, the run on the deals by local Tahitians was immense. We tried to go to the Airline office to see if there was something that we could book, but the lines were insane. Funny to see the local Tahiti Air airline booking office packed with people, all practically sitting on top of each other, with no social distancing, masks or other nonsensical protections from fear. While down the street there was the Air France office where people were only let in one at the time, and a long line standing outside following the European new normal standards. Not that Air France was flying anywhere anytime soon, but there were rumours they would resume regular flights back to Europe.
With our travel plans to a neighbouring island canned, we decided to book a local villa. A beautiful house on a private beach on the far side of the island. It was absolutely beautiful. We had a kayak to paddle around, snorkelling equipment to explore the reef, just outside the garden. A wonderful big BBQ, a steaming hot Jacuzzi. Fully equipped kitchen, the works. Despite the daily rain, I could have stayed here for weeks on end, it was my absolute dream house. We organized a nice BBQ party for our newfound friends, whom had invited us to their house on frequent occasions. We felt sad to leave this place, and even thought about changing the ticket once more.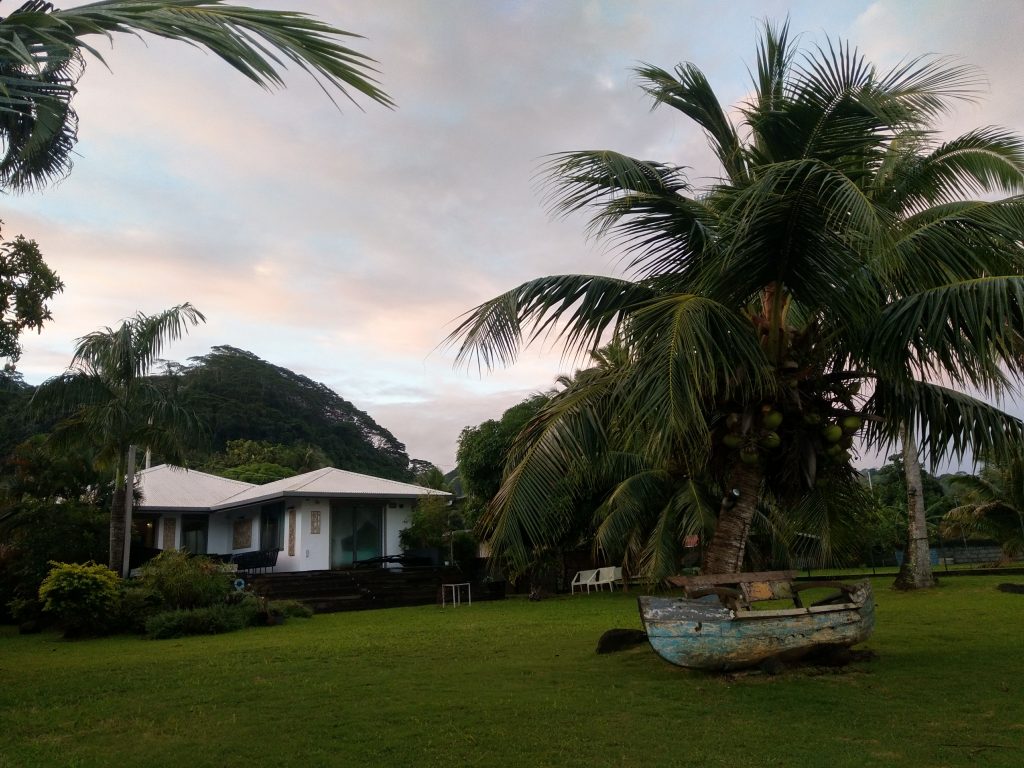 The flight back
We dropped our little Fiat Panda off at the rental shop across from the Hotel. She had been our trusty steed for months on end. The rental company had given us the best discount they could possibly give as they were probably glad to have a client at all. The lot of the rental company was packed with cars, indicating that there wasn't much business going on. But in the end it would probably have been cheaper to buy a car.
JP and his family were at the airport to see us off. In Polynesian style we were adorned with necklaces made of shell, a symbolic gesture to bid a traveller farewell and good travels. We decked ourselves with the mandatory face coverings to enter the customs area. But once we arrived at the empty air Tahiti Nui lounge we put our masks aside and had our last Hinano beer. As times passed, the lounge filled up a bit more, a handful of travellers making the jump across two puddles back to Europe.
We boarded the flight, again adorned with face coverings, we noticed the plane was about seventy five percent filled. Logical, because this would be the last 'affordable' government sponsored repatriation flight to Europe. After this flight, normal line services would resume, and ticket prices from Europe to Tahiti or the other way around would again be astronomical.
The flight was uneventful, once the first drink arrived the coverings came off and remained off as we were almost constantly eating, drinking or sleeping. There was no fuss about it, most people were relaxed and fearless. As we landed in Vancouver for a quick refuel the dystopian reality hit us. The normally very busy airport was a ghost town, There were maybe two or three other planes at the gates. We had to disembark for the refuelling process. Once we entered the empty airport, again covered up, you'd see the fear filled eyes of the Canadians peering over their masks. Thinking that coming close to use would instantly infect them with a lethal disease and they would instantly drop dead like the fake videos from Italy. Not realising or understanding that we came from probably one of the safest and cleanest corners in the world.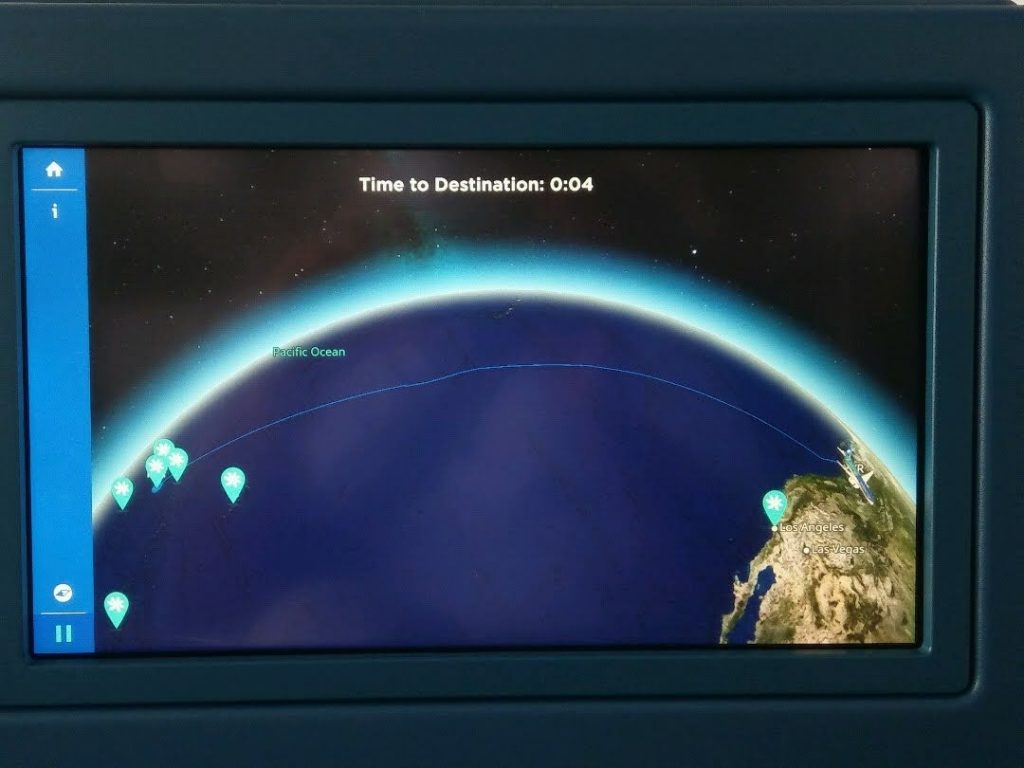 After a quick hour we returned back to our seats and started the second leg of the long flight, the second ocean to cross, to land in Paris in the early afternoon. Paris was a bit more lively than Vancouver. Charles de Gaulle has all but one terminal closed. A number of flights had arrived, mostly from African countries, most likely old French colonies. Hordes of families packed with everything they own disembarked and had to be processed by customs and immigration. Despite the Corona craziness, it seemed like the immigration faucet remained fully opened. The French customs agent allowed us to quickly pass the large queues as they saw we had only our two suitcases and were obviously not planning on settling in Europe. We left the airport and found our Uber waiting for us after a frantic search for an exit that was opened. We stayed the night at a small hotel just outside the airport. The hotel and a quaint and typical French restaurant where we enjoyed a good bottle of wine and some very decent food in the garden.
The next day, completely jet-lagged as we came from 10 hours earlier on the globe, we checked into our flight to London. A short forty five minute hop over to Heathrow, something I must have done hundreds of times earlier, but then from Amsterdam, which is pretty much the same distance. The flight was made almost unbearable due to the unimaginably uncomfortable hot mouthpiece covering our faces. The British Airways personnel was as paranoid and fearful as the Vancouver airport staff. I was relieved to disembark that flight and find myself at a quiet corner at Heathrow to take off the face covering and wait for our next flight.
We had to wait for about 8 hours at Heathrow. Normally not an issue as there is plenty to do at the airport, A nice Gordon Ramsey restaurant, some good whiskey shops and lots of other stuff to browse. Not today though. The whole airport was as dystopian as the George Orwell 1984 novel. Everything closed, continues calls on the PA for people to keep distance and wear face coverings. People with fear in their eyes, eyeballing each other with distrust. If a cough is heard somewhere, all heads immediately point in the direction of sound, almost ready to lynch the person.
We were glad to get onboard the Cathay Boeing 777 air-plane and take to the skies again. Although the Cathay crew was almost as paranoid, if not even more so than the BA crew. We were up front in Business as we used our points to redeem a good seat in this madness. Our reasoning was that with less people in the cabin, a possible infection would be less likely. Not that we are afraid to catch Covid, it's not dangerous to us at all and would probably pass like a light flew. But to be tested positive in Hong Kong or Macau would result in full scale panic and ridiculousness and probably mandatory hospitalisation. We saw other passengers in full hazmat suits boarding the plane. Asians are normally a bit weird when it comes to masks and air-planes, but this was surreal. The normal food and drink services like we had on Air Tahiti was gone. Cathay service is normally not that great, but this flight was even worse. All meals were reduced to a single drop of all food items at once to reduce the contact between the crew and the very dangerous travellers.
We caught some good sleep on the plane and landed in Hong Kong on schedule. No surprise as we were probably one of only a few air-planes in the air. The Hong Kong airport was as dystopian as Heathrow. This time we had to wait for another 10 hours before we could catch our ferry to Macau. There was one noodle joint open in the area to which we were confined, that was it. No comfortable seats to be found anywhere. The 10 hours felt like two weeks, and quarantine hadn't even started. Finally we were allowed to board the special ferry between Hong Kong and Macau. This was put into place by the Macau government on a temporary basis to allow for students to return home. As Macau does not have many international flights, they struck a deal with Hong Kong to allow for people to transit. Funny enough the Ferry company put all forty or so passengers in one small section next to each other, no social distancing whatsoever. The ferry has space for at least 200 people, so the passengers could have been spread out in a sensible way. But that would be too logical. We decided to ignore the instructions of the crew and sit somewhere where I have some legroom, far away from the rest of the people.
Once we arrived at the Macau ferry pier I couldn't believe my eyes. It was like arriving at a Nuclear power plant that just had a meltdown. Everyone was in full hazmat suits welcoming us with authoritarian instructions. First sit here, then sit there. Then fill out this, move over there. Then fill out that, move somewhere else. And finally some sadist 'doctor' sticks a stick into your nose up to your brainstem to take a flawed PCR test. An absolute violation of human rights and common decency. Finally we were transported to the quarantine hotel, the Sheraton in Cotai, Macau. Normally a great hotel for a short stay, but even this hotel, for two weeks in a row without leaving your room and no fresh air, feels like a jail. Heck even prisoners get out in the open air for at least an hour a day. But I shouldn't complain, this is the new normal, so better get used to it…
Demise
During our stay on Tahiti It was painful to see the island slide into a demise. Tahiti was nothing but a small colonial island until the French Nuclear Agency decided to use this colony on the other side of the world to start testing some of their home grown mushroom bombs. This military exercise brought thousands of people from France for all kinds of jobs related to the tests and Nuclear research. The population of Tahiti grew exponentially and with it came wealth and 'prosperity'. The French being the French, imposed their European way of doing things on the Islands, for better or worse. The Island was surrounded by a European style roads, and they even made a small bit of highway, just so you can drive between Papeete and Punaaia a bit faster. The French also made changes that rubbed the locals the wrong way. The absurd idea that people had to pay for fresh water was something that the local population did not accept, as fresh water came down from the mountains in the streams for free as long as there were waves in the sea.
As the world opposed the destructive Nuclear test in French Polynesia, the nuclear research facilities and its personnel wound down. Many French left the Islands for their next adventures, but a few stayed behind and started calling Tahiti their home. The focus shifted to exclusive tourism and French tax evasion, making Tahiti and more so the surrounding Islands, a place of warmth and wealth. Five star hotels emerged from the reefs, bathing a few very lucky persons in extravagant luxury, mostly honeymooners or the extremely rich.
Now with the Corona madness raging around the world, the flights to Tahiti are on a halt and the resorts and hotels have to close their doors. During our stay, one of the most prestigious Hotels, the Intercontinental resort and Spa on Moorea, closed its doors for good, resulting in around 400 people losing their jobs. On an Island where there is not much more than hospitality to pay the bills, this comes as an earthquake of unimaginable proportions.
I can only imagine what the situation is now, after more than a year of isolation. I fear the worst for the people of French Polynesia.