After our trip through the harbours of Florida,  we went to the Island of Curacao, where I was summoned to do some work for an old client. Linda came along for a week to accompany me before she had to return home to Macau to celebrate Chinese New Year with her family. We were still in the habit of checking the yachtworld website every other day to see if something interesting pops up.  And so we found 3 boats on the island of Curacao. A Hunter 45ds, an Hans Christian and a Bavaria 55 cruiser. I called the listing broker, Serge Duvallier, to set up a viewing for the weekend. Unfortunately, the Hunter and the Hans were on the nearby island of Bonaire, so we couldn't see them as we were not able to get tickets on such short notice.  All that was left was the Bavaria for the weekend. I didn't have too high regards for the Bavaria boats as the last one I saw was a puny Bavaria 39 delivered to Hong Kong, ordered straight from the factory by a Chinese acquaintance. As this boat was outfitted for the Chinese market, everything was cheap and cheerful. It didn't even come with an anchor winch.
I went to see the 55 cruiser with very low expectations. For us it was more a thing to do on a Saturday than a serious inspection. But when we walked over the dock and saw this enormous high hull, equipped with an electric transom, hiding the dinghy garage, I knew we were in for a treat. The inside was as meticulously maintained as the outside. She looked like she came right out of the factory. When Linda walked up front to check out the owners cabin, she was sold. A gorgeous king size bed, a walk in closet, separate shower and head. She was in love, and so was I. Could it be that we have found our boat?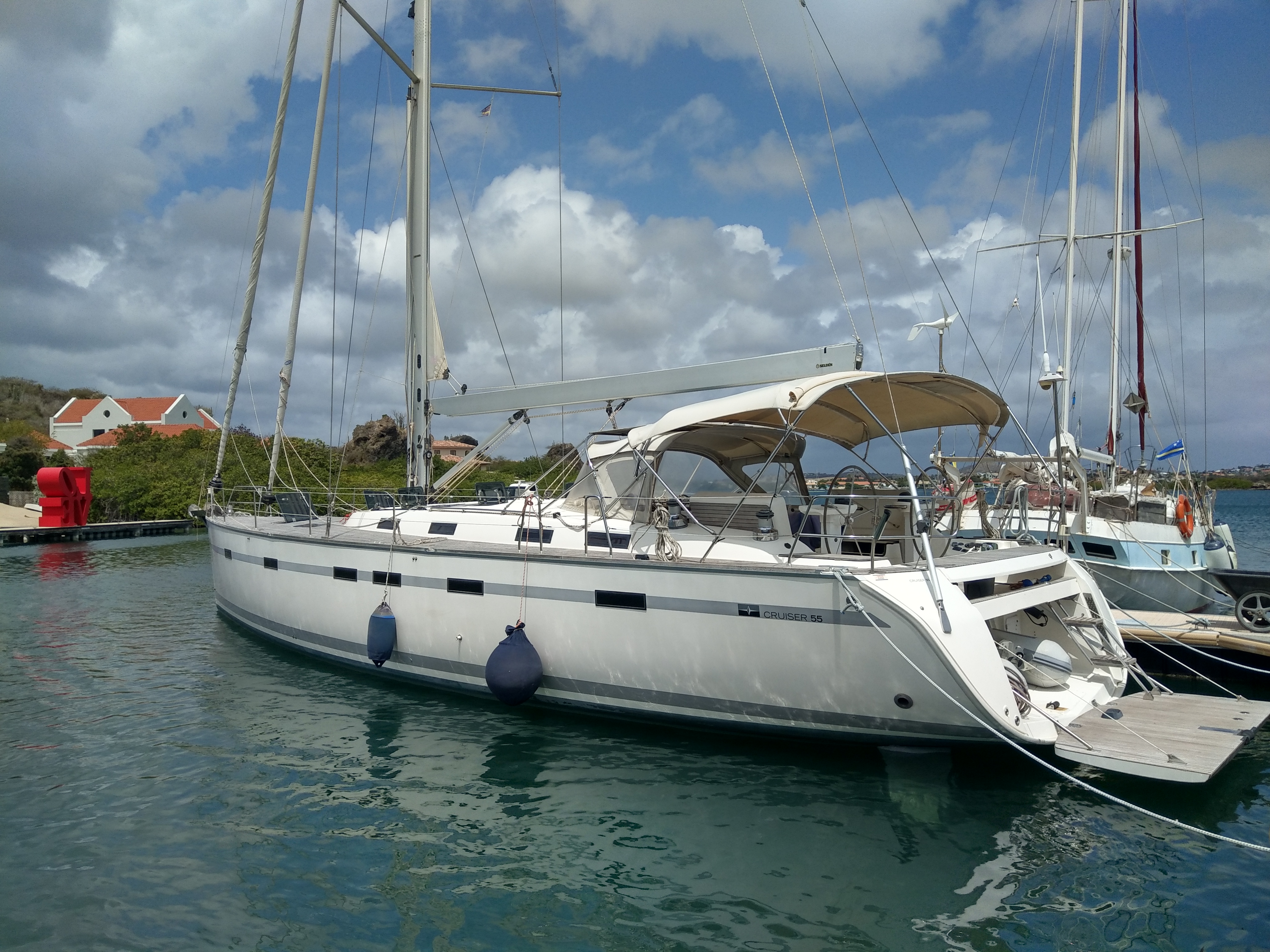 I had about a month on the island left for work, so we started to do a lot of research on the Bavaria 55 cruiser, myself from Curacao, and Linda from Hong Kong. Every morning and evening with Whatsapp calls we shared what we found. The boat became more and more feasible with every answer we got. We couldn't find much on the boat itself,  it wasn't produced in large quantities like other Bavaria's, which is a good thing. I've seen and sailed a recent mass production one, albeit a lot smaller, but I must say I was not impressed to say the least. What we found was that at the time of production, this particular model was the top of the line. Designed by Farr and built together with BMW marineworks, both prominent names that stand for quality and 'Deutsche Gründlichkeit'. We asked every sailor, agent and even the people from Bavaria Hong Kong for opinions and experiences. None were negative, some were more concerned about the size, and some (agents) of course tried to sell their stock boats instead. It was good that we drove through the US a couple of weeks before to see boats. Along the way we met lots of knowledge people, that could help us shine a light on the 55 we had in our visor. In general everyone was positive, so I asked the broker for a second viewing to really go through every detail, open every hatch, see every valve etc. This second time the owner and his wife were also present. Very friendly people that had cared for this boat since she left the yard. The owner told me the full history of the boat with pride and joy.
She came to live as the showboat for the German boat show, so as a price horse, everything had to be more than perfect. The owner fell in love at first sight and bought her on the spot at the boat show.  He didn't have time to use her for the first couple of years, so she waited at the Bavaria yard, had every upgrade possible and some more was mounted to her by the Bavaria engineers. Then finally after a couple of years on the dry, she was moved to Turkey on a trailer to sail the Mediterranean. But only for short vacations and not when there's 'too much wind'. Finally about two years ago, in 2017, she went on her first long trip to the Caribbean. But not before she was properly prepared for such an adventure, and was fitted with an extra inner staysail and some more safety upgrades. She arrived in Grenada where she spent a year, then she was moved to the island of Curacao, where she patiently waited for her new owners, in a safe marina behind many fences and guards. After listening to the story and seeing how much care these people took of the boat I was convinced. The only 'problem' would for me to handle such a large boat alone or just with Linda. But the German couple did the same, so how hard can it be?
Two weeks ago we decided to make an offer, and soon after some back and forth bidding, we decided on a price 'as and where is' and so the contracts were drawn up…
Now the process of testing and surveying has started. It's good that in a sailing community everybody knows everybody. Soon after checking in with some old friends and colleagues I had contact details for a rigger,  surveyor and a general yacht hull guru. I lined up a test sail for the weekend where we would take out the boat and test the systems.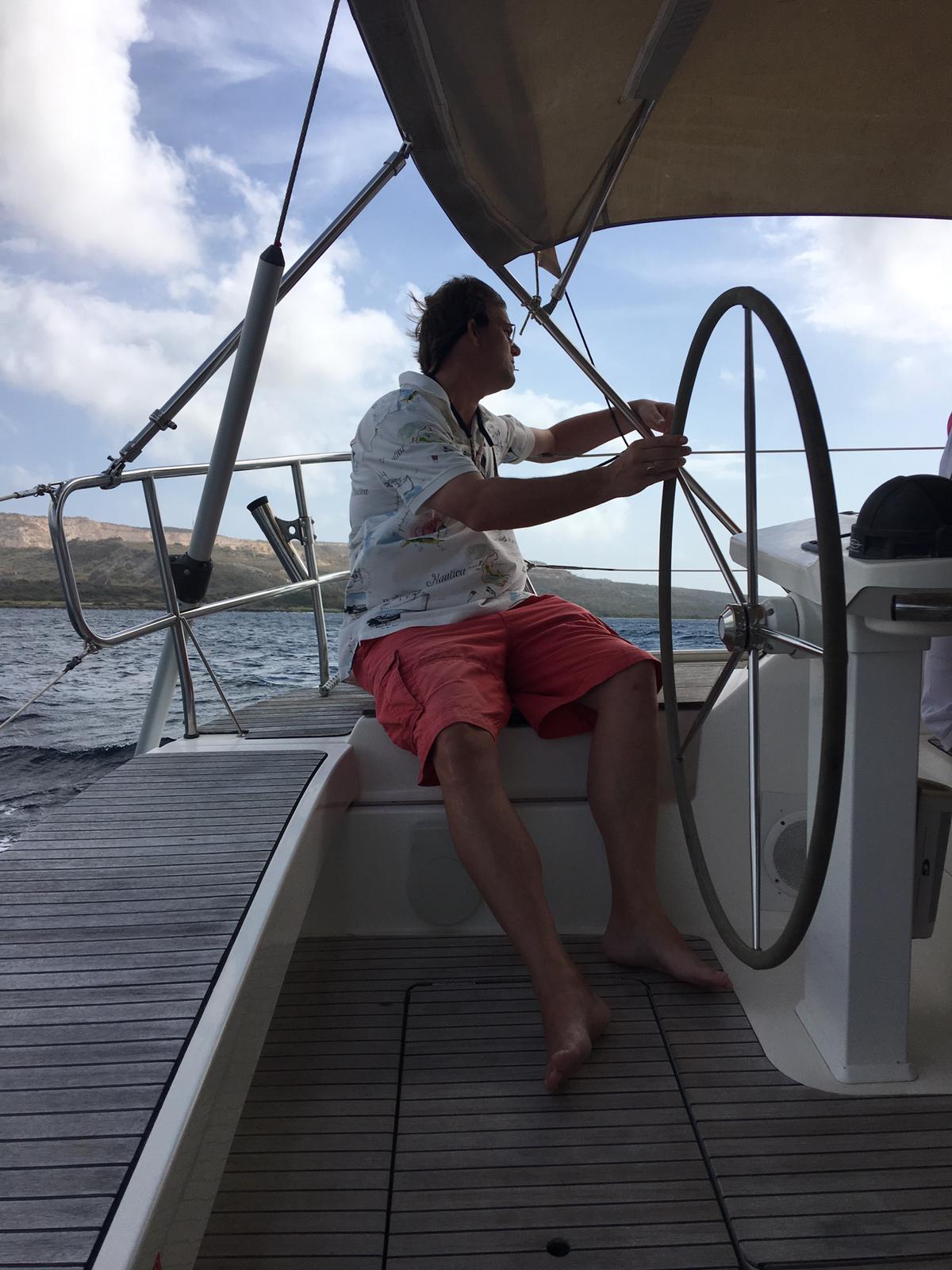 There were six of us on the boat. I brought two friends with much more experience on boats to help me assess the general state, the owner of the boat was there with his wife, and of course our broker. We took of from the Seru Boca Marina at 10:00 am on a Saturday. First some navigation on the engine to get out of the Spanish waters. There was a slight wobble in the drive, probably due to some growth on the propeller blades, but she handled like a dream, very light steering and direct maneuverability. I maneuvered her through the narrow exit of the Spanish Waters into the blue Caribbean ocean, with the help of many different opinions on which path to take. The depth of the boat concerns me a bit, a deep 2.2 meter keel asks for careful navigation of the shallows. Once on open ocean we pushed some buttons to let the sails out and we were on our way. Cruising up wind she needs the balance of the sails to prevent a thick weather helm, but once both sheets fly, she balanced out nicely, without much fuss. Upwind we cut into a 2 meter ocean swell with occasional rollers. She took it with no fuss, not a splash of water reached the cockpit, but the fore-deck got a good rinse. I was afraid the boat would behave a bit like the smaller Bavaria I sailed before, which was banging like a speedboat on a tiny swell. But this 55ft shows her Farr design, and cuts like a sleek dolphin into the waves whilst producing upwards of 7 knots on upwind speed. The double fore sails cause for the need for the sail to be rolled in a bit before tacking, not a big problem with the electric winches.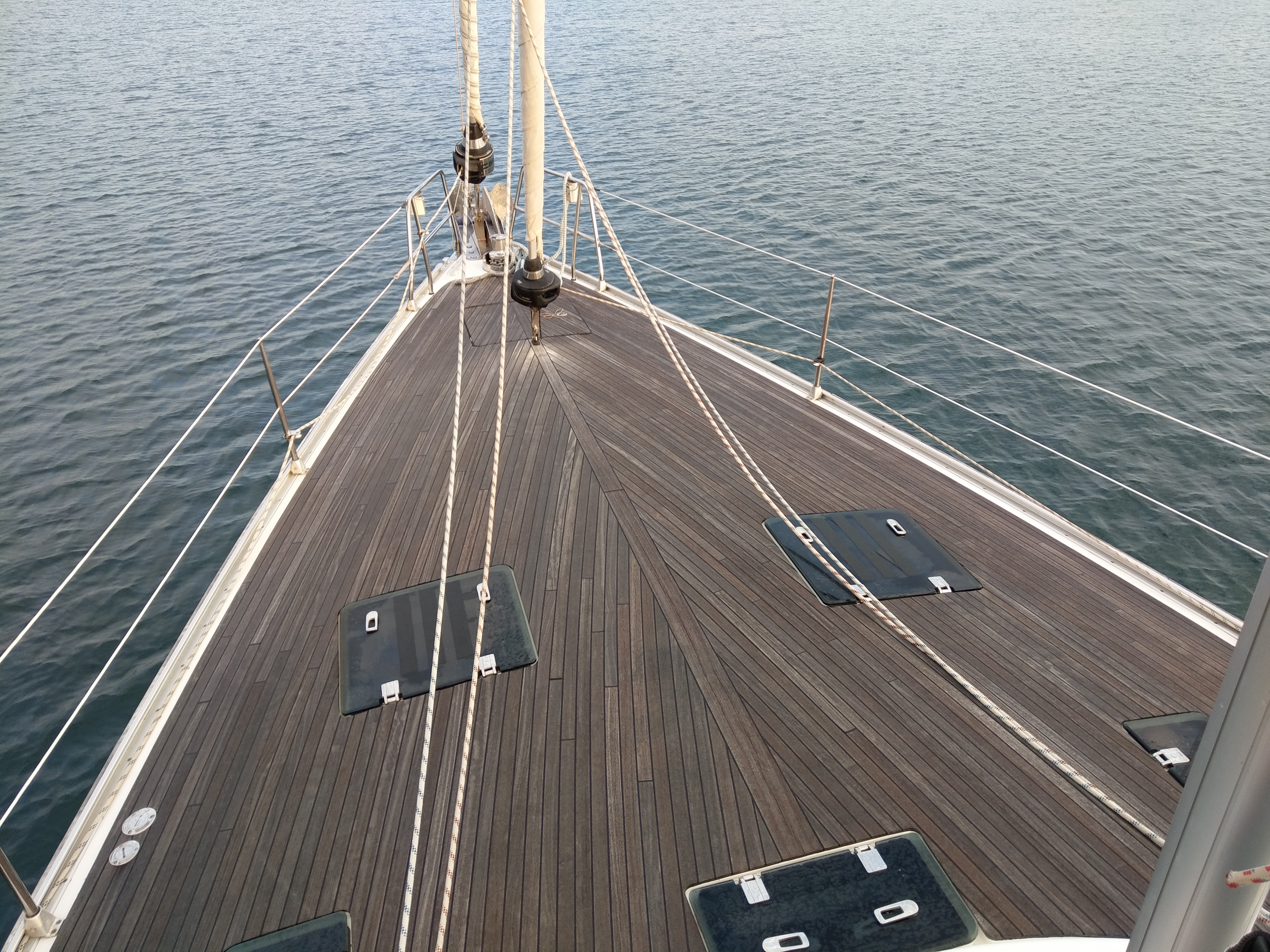 After a couple of hours of sailing we steered her towards the coast to test the anchor and dinghy at the Fuik bay. Another shallow entrance had to be navigated but with two locals on board that drop anchor here almost every weekend, that wasn't much of a problem. After dropping 40 meters of chain we took the caribe dinghy out of her garage. She has to be deflated a bit because she is too fat for the garage, but an electric pump makes inflating her a breeze. The dinghy is equipped with an oversized 28 horse power, 4 stroke, Honda, that after sitting idle for half a year, started at the third pull.
My friends helped inspecting the boat and found a few things that need some attention, the biggest things being the bimini being near end of life and the running backstay showing signs of rust. For the standing rigging I organized a rigger to do an inspection, as this could be a show stopper. But other than that, a successful sea trial, plans can be made for the outhaul and survey..