We spent a week at the Galapagos island, preparing for our passage across the Pacific. In those few days, the place went from a bustling eco-tourist destination to a ghost town as Corona madness swept across the Islands.
Thursday, 12th of March
Arrival at the Galapagos Islands went without any incident. In the early morning we dropped anchor in Academy bay and hoisted our yellow Q flag. We called Ronny, our agent, on the VHF. Within an hour he was on board to go over the check in process. Around noon a government delegation came to the boat to address all paperwork. Eight persons in total, all wanting signatures and boat chops. After half an hour we could wave them goodbye holding our check in papers in hand. Smooth sailing so far..
The Academy Bay anchorage was packed with boats. There were about 15 commercial tourist boats. Also a good amount of yachts of all shapes and sizes. Our skipper wasn't too happy about the crowdedness of our anchoring spot. After finding the only spot too shallow for our draft and scraping the keep a bit on the bottom, we moved to a deeper and more private spot at the end of the anchoring field, across from the German beach. Here we were safe from unruly boats dragging anchor. But we were near the entrance 'lane' for high speed motorboats though, so we needed to keep the boat lit for them to avoid us on their high speed approach at night. As occasionally a tourist boat whizzed by, ignoring the unwritten 5 knot no-wake 'rule'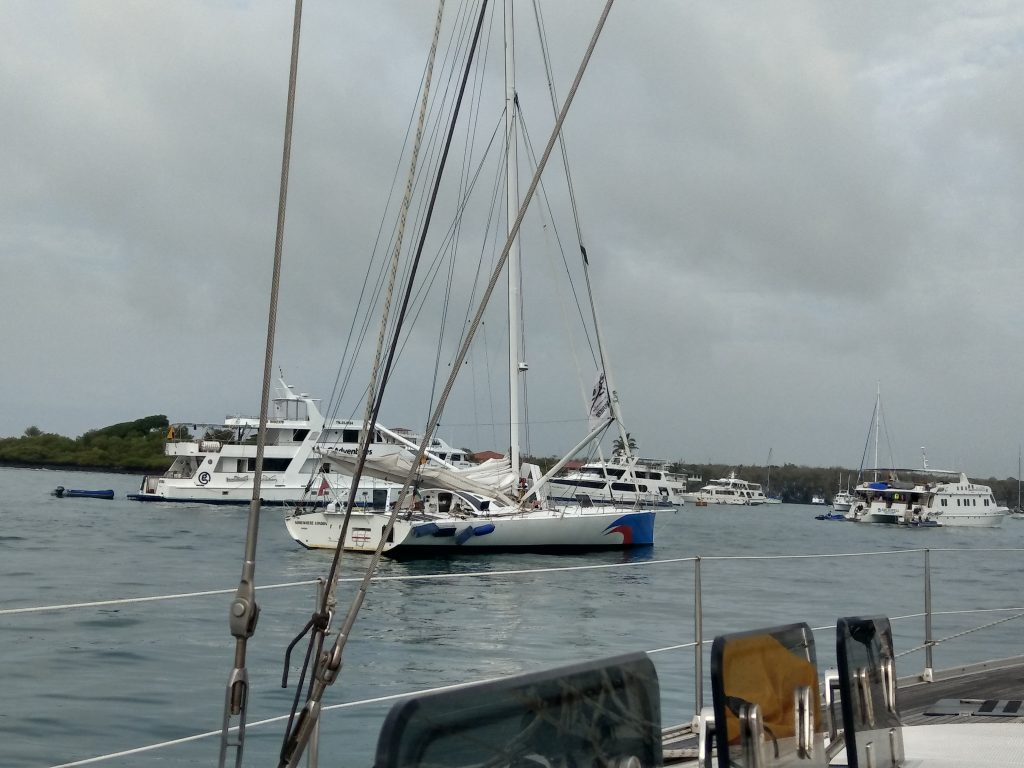 Our first order of business was to get to shore for drinks and foods. There is no spot to moor a dinghy in Academy bay. All boat to shore traffic is arranged through water taxi's for us$1 per person. We hailed our taxi via the VHF and enjoyed the ride to shore. So no chance for us to give the new outboard engine a spin.
Our late lunch was at the food street. A simple rice and fish dish and some soup. The food didn't qualify for any Michelin recommendations, but the big bottle of Pilsner serveza should get a golden medal.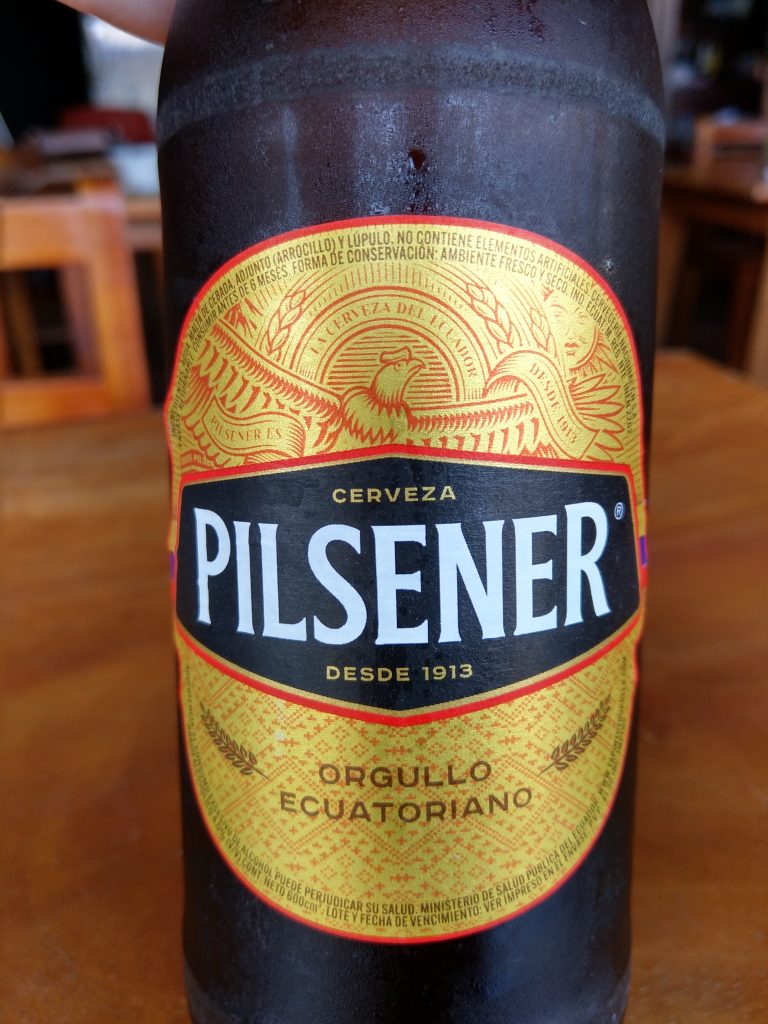 After lunch we did a quick survey of the available hardware stores and supermarkets where we could source parts and supplies. In the evening Linda and I checked in to the Angermeyer waterfront Inn. A lovely quaint little Hotel at the waterfront with a reasonable restaurant. We got a nice and quiet little cottage style room to relax in for a couple of days. This way we would give the crew some distance to avoid unnecessary tensions.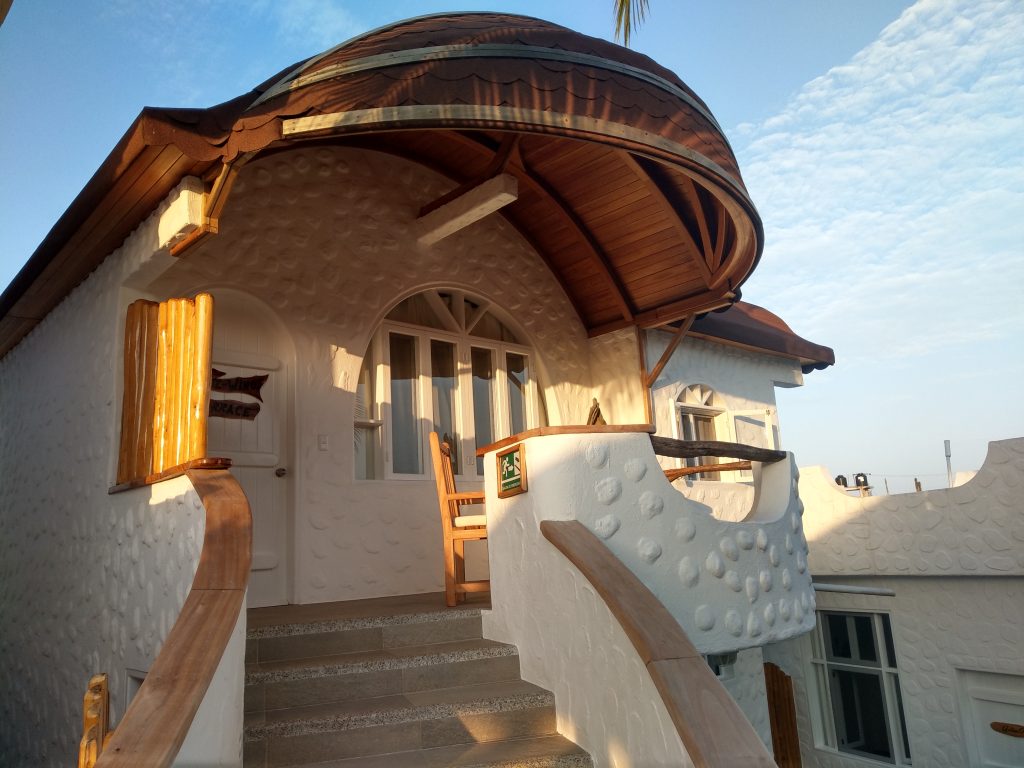 Friday, 13th of March
Friday the 13th, what a great day to jump into the water with a couple of sharks. Linda and our first mate booked a dive with the Albatros dive centre. It would be an early morning dive, so we don't go too crazy on the drinks tonight.
The dive boats are gathering on the opposite side of the island, a good 30 minute drive from the main town. Our boat had 7 divers aboard with two divemasters. We were divided into two groups on the boat. Our group was just myself, Linda and our first Mate.
Our dive master was excellent, he shared many useful tips and a wealth of information about the dive site. Our dive was the Gordon rocks, up at the North end of the Santa Cruz island. We did two dives around the rocks, which are volcanic vents coming up from the deep. The water is full of life, therefore the visibility is not too good. But still good enough to see about 10 meters into the deep.
The dive was sort of an underwater safari, hiding out behind rocks and ridges to spot the hammerhead sharks and large rays. We were not disappointed. The drive was one of the best dives we had ever done. In between the dive we enjoyed a snorkel swim with some very playful sea lions and a simple lunch was served after the dives.
The rest of the day was spent searching for parts for the boat. Some hose, some plumbing parts and other bits and pieces. we walked between the shops ElectroNautica, Casa Blanco and some Fraterias (general hardware stores), everyone pointing us to yet another store.
For dinner that evening we went to Midori, a fusion Japanese restaurant. It didn't disappoint. The rolls were tasteful and not too saucy.
Saturday, 14th of March.
Saturday was mostly spent searching for parts again. Ronny, our agent, drove us around to find some hot water hose for the generator, some glue and a bit of sail to patch up the holes in the main and genoa and some sort of a water raw strainer. Again we were directed from shop to shop.
In the afternoon we loaded the boat and the empty jerry cans up with diesel. An interesting exercise as it had to be pumped from a barrel on a small boat next to us in pretty rough waters.
In the evening we all had a simple dinner at the hotel accompanied by the necessary Gin and Tonic.
Sunday, 15th of March
The Corona madness has found Ecuador and the Galapagos Islands. Linda's flight out to Toronto was cancelled for health and safety reasons.
The corona pandemic rumours started to reach our mailboxes and news feeds, so our skipper found it was time for a Pandemic crisis meeting. We learned from the hotel that the Ecuador government was about to close Galapagos down. Next Monday would be the last possibility to leave the island by aeroplane. But leaving the island is one part, after that you'd need to get a flight out of Quito in Ecuador, which turned out to be impossible already.
Soon after Linda got the news that her flight was cancelled, our first mate got the same unsettling news. After many hours of searching on the internet, we came to the conclusion that leaving the Galapagos or Ecuador by aeroplane was just not possible. The chance was good that Linda or our first mate would end up stuck waiting for a connection. Or worse, held up somewhere in quarantine for a couple of weeks. They both decided, in these unprecedented times, it would be best to sail onward on the boat.
We don't know if any onward island port will accept sailing vessels by the time we arrive, in about three weeks time. What we do know is that the boat is the only sure way West. And possibly out first mate and Linda can catch a flight out from an island further down our course.
For now, we have five souls aboard, and they all need to be fed for a considerable amount of time. So for tomorrow, grocery shopping is on the calendar. Ronny will bring us to a supermarket where we can buy quantities and he will help sourcing water.
Monday, 16th of March
At 8am we disembark from the water taxi pier. There is already a queue at the ATM's and a tent outside the supermarket entrance where people need to wait, as there are only a certain amount of people allowed in the supermarket at any one time. We divide and conquer, me, our skipper and first mate go to find some more things at the hardware store, whilst Linda and Dr. Ignasi try the supermarket by the pier. Soon we get a message from our agent, Ronny, that he will bring us to another supermarket which should be cheaper and better supplied. We all walked towards our new target. We raid the supermarket for anything we find useful. Two full trolleys full of bounty and another 300 litres worth of drinking water. It was quite an undertaking to load all that bounty in a water taxi and load it aboard Ah Ma. But once all was loaded on, Ah Ma swallowed up the mountain of supplies in every nook and cranny of her storage compartments. Soon there was no trace of the supplies, other than a couple of water bottles sitting on shelves in the cabins.
In the afternoon, Ronny collected our passports to get the check out stamps. It is now official, within 48 hours we need to get out of here. Not a moment too soon, as the corona madness is now taking serious form. The queues at the few airline offices are immense. Desperate tourists trying to find a way home. The shops and restaurants start to close down, chains on the doors for the coming weeks.
That evening we regroup at the hotel for another Gin and Tonic filled 'pandemic meeting'. The hotel is now empty aside from us. We gather all the news we can find and prepare the documents for our next port of call. Where that is we don't know at the moment. Maybe Tahiti, or maybe Marquesas. The ground support of our skipper back in the Philippines will assist us with gathering information and forwarding it to our satellite phone email.
We find out that we need a health certificate not older than 5 days for entry into French Polynesia. So again we call on our Agent, who comes to the rescue once more. He arranged for us to get a medical certificate first thing in the morning with the necessary stamp and signature.
Tuesday, 17th of March
Again the Ah Ma team disembarked early in the morning from the water taxi pier. This time we were off to a local clinic to get our certificates of good health. Some simple tests at a local clinic that can't be taken seriously provide us with a piece of paper and a stamp that the authorities in French Polynesia would require.
After our brief visit to the clinic we buy some more food, fresh things like onions, potatoes, apples and more. We also buy a good selection of medical supplies. Dr. Ignasi, our boat doctor is of great help compiling a well stocked ships apothecary.
By this time most shops and restaurants are closed. Restaurants are only allowed to sell take out food, and when you order you'd need to wait outside the restaurant.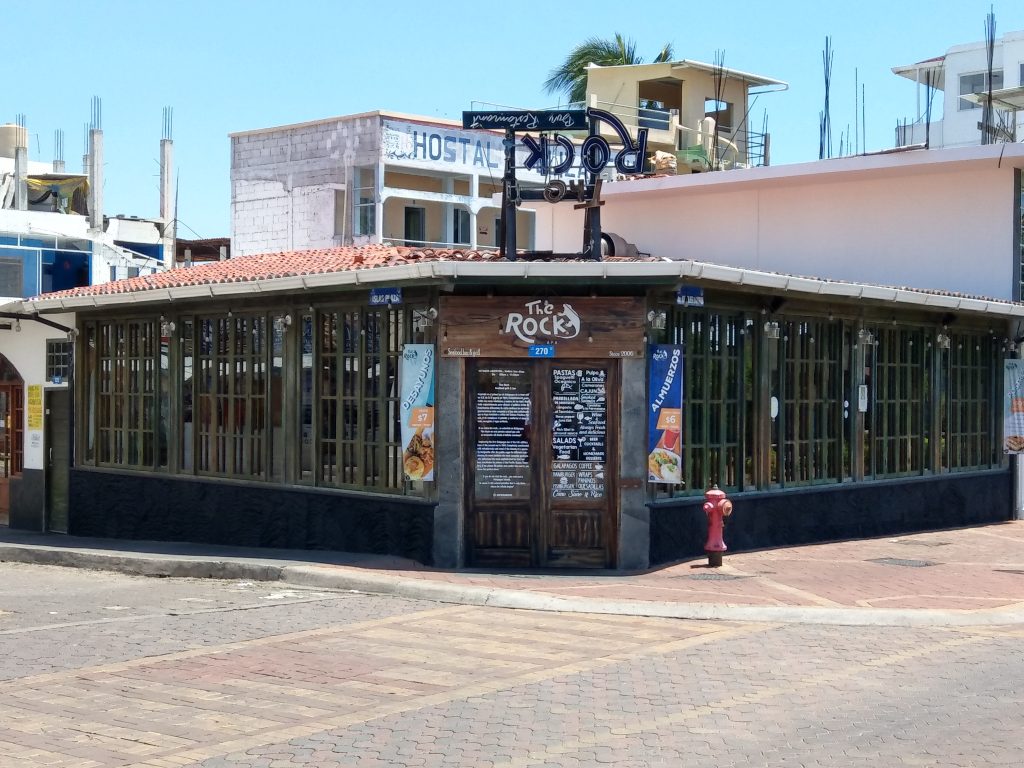 We hear of an Australian boat that cannot get it's exit documents, because the Marina Captains office is now closed for the coming 3 weeks. We saw another boat arriving in the afternoon, they would probably not be able to check in for a while. The situation is getting more and more tense, we decide to leave tomorrow at first light.
Then, around 8pm an unprecedented surprise. Our agent now tells us that customs and narcotics want to do an exit inspection of the boat before we leave, so we have to hang around till 9am tomorrow.
This will be our last post for a while, until we reach connected shores.
---