Wednesday, 18th of March (Day 1)
We all stayed on the boat last night as the hotel is now officially closed. Well actually not completely closed, it is now sort of a quarantine location for people that have come from possibly infected locations. A group of Russian film makers checked in yesterday for their two weeks of isolation. They stayed at the hotel a couple of weeks earlier, before they headed out into the wilderness to shoot some footage. Now they are stuck at the hotel, until they can get a flight back to Russia. They got strict instructions not to leave the hotel grounds. It is not a bad place to be, an idyllic hotel somewhere in the middle of the Pacific. Better than a gymnasium filled with stretchers I would think.
On board of Ah Ma, the mood was tense. No one knew why this surprise security check was suddenly necessary. We even contemplated leaving at night, afraid that we weren't allowed to leave any more due to the Corona madness which had now reached epic proportions. But in the end, after much speculation and debate, we decided to stay put and allow for the inspection to happen.
Ronny, our Galapagos agent, arrived with two officials around 9:30. One military and one police narcotics officer. They asked the same question as they did during the check in. The narcotics inspection was limited to a quick glance through the salon. Most importantly, they needed to make sure we have enough diesel and water to sustain ourselves on the onward journey. They definitely don't want boats to return to the Galapagos with some sort of emergency.
We learn a first case of Corona was diagnosed on a neighbouring Island, adding to the panic and chaos. This explains a small speedboat rushing past us early in the morning with three people in full hazmat suits. They were probably underway to pick up the victim.
We were allowed ashore for one last time to get some last minute groceries. Myself, our fist mate and Linda took a last trip to the supermarket near the pier. Here we loaded up the purple shopping trolley to its maximum capacity once more. Our greatest bounty were two 5 litre kegs of Heineken, which would be sacrificed as soon as we make landfall at a safe harbour. Ah Ma is now officially a floating mini-market. All that's missing is a Chinese sign on the stern with something like 'Ever Rich (Floating) Market' written on it.
Upon returning to the boat, we quickly hauled anchor and made way, leaving the Galapagos Corona madness behind us. We are safe now, with 1000 litres of bottled drinking water, 800 litres of diesel enough food to last for a couple of months and 10 litres of Heineken. At this moment we have no idea where we will end up. We aim for Tahiti, where we already contacted an agent to start the clearance progress. But it could very well be that we are not allowed ashore there. The ground support of our skipper back in the Philippines is keeping close tabs on the situation. She keeps us posted by sending us updates through the Iridium satellite email account.
To take our minds off the affairs of the world, mother nature treated us to a fantastic sunset. A group of dolphins briefly played in the bow wave, until a couple of sperm whales chased them away, bullies! Of course all of this happened when we did not have a camera in hand, ah well it will be our private memory then.

---
Thursday, 19th of March (Day 2)
Our second day at sea. During breakfast we had an emotional meeting as news about the Corona madness came through. As the situation is now, our skipper cannot return to the Philippines, since he's not a Philippine national. Our first mate's wife, has contacted the New Zealand authorities, whom are debating about the situation. There is a chance Ah Ma will be declared a humanitarian mission and will be allowed to clear in to New Zealand with all her crew. We also received news via the Iridium email that French Polynesia is allowing yachts to restock and refuel. A bit of good news for a change. But it is still many miles and many weeks before we get there, so we'll cross that bridge there and then.
We cleared the Galapagos natural reserve boundary, a 40 mile zone around the Galapagos Islands that defines the Nature reservation. On the AIS we see a few boats, one of them, S/V Therapy, seemingly close enough to hail on the VHF.
We try to call them on the radio to no avail. They must be too far away to receive our broadcast. As we are moving faster than all other targets on the screen, the AIS targets slowly disappear out of range. We are now alone in the Pacific, heading South West to find the trade winds that will carry us further West.
But the doldrums continue, light winds in the morning pushing us at 7 knots. Later during the day the wind died down again and the waters became flat. The trade winds are still about 180 miles more South as we can see on the PredictWind weather forecasts. At this pace that's more than a days of motoring.
The rest of the day went without further incident, we made water, showered, clocked a meal and chatted amongst ourselves. All while motoring further South to find the winds.
I opened up the bimini canvas to have a clear look at the stars tonight. It's a moonless night, and the Milky-way is stretched out above the boat in all its glory, absolutely fantastic. A trail of bio-luminance is lighting up the waters behind us. All things that can't be captured by cameras, things that need to be seen and experienced with your own eyes.
We don't get to see much of the night sky in Asia, as the skies are mostly covered with smog from Shenzhen and light pollution from the mega cities. Maybe during this corona lockdown this clears up a bit, and people in Macau can enjoy some of this splendour of nature as well.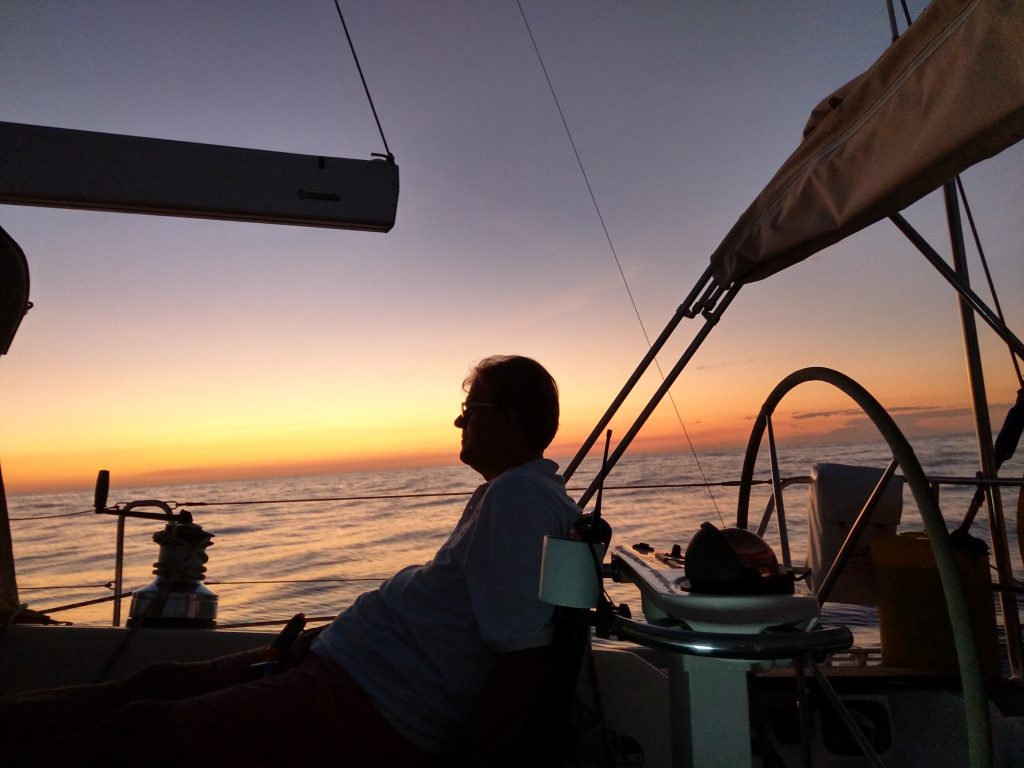 ---
Friday, 20th of March (Day 3)
We cheered too soon, as the winds died down again bringing the boat speed down to a crawl. So again we rolled up the sails and started the engine.
The day was spent with the same ritual, trying to keep the spirits up, searching for news about the situation back home. We wrote an email to our friend in Macau, asking her to present our case to the Macao government. We are hoping to get some assistance in finding a place to get to shore. Maybe one of the Pacific islands where Macau has Casino interests.
In the afternoon we see a lonely sea lion in the middle of the ocean. At first I thought it was another piece of plastic floating by. But then it moved and swam away. He is a long way from home, just like us.
For dinner I prepared some chicken for the BBQ, but around dinner time everyone was sleeping so I didn't wake them up. I'll grill the chicken tomorrow for lunch, a night in the marinade will only make it better.
Late at night, around 3am, the time that I usually update my writing during the night watch, Linda noticed that the apparent wind is now above 8 knots and the angle at 30 degrees. Time to hoist the sails! Our skipper and I pulled out the main and the genoa and silenced the Penta. We are finally sailing again..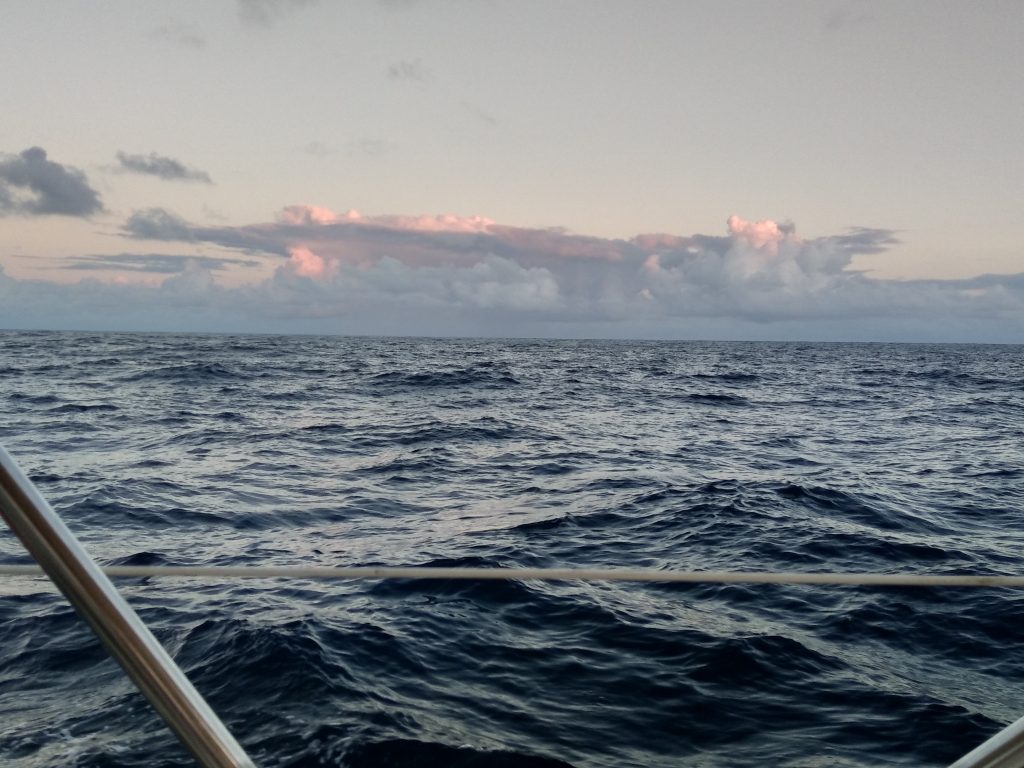 ---
Saturday, 21st of March. (Day 4)
A bit of good news reached us about Fiji. As it stands now they will accept yachts that have been in self quarantine, spending more than 2 weeks at sea. This makes heading to Fiji after Tahiti an option. We hear that everyone on the Pacific is planning the same route so it will be busy on those islands.
Then there is also the world ARC rally. A flotilla of about 80 boats that cross the Pacific as a group to give each other support. They are about two weeks ahead of us. If this group is stuck on an Island because of the Corona madness, all the anchorages and mooring fields will be full.
I roasted the chicken I marinated yesterday on the Magma for lunch, it made for some delicious fajitas. A little treat whilst motoring along.
Around noon we reached what seems to be the trade-winds, fluffy clouds covering the horizon, a sign of winds and possibly some rain. We are now roughly 400 miles South West from the Galapagos. Still a long way to Tahiti. But now we can move along with the constant breeze pushing West, just like the sailing ships did in the good old days.
I can't help but to wonder, how did those first sailors get through the equatorial doldrums. They must have spent days, if not weeks, being becalmed on ships that moved at a snails pace. No wonder they started dreaming up sea monsters and scary anecdotes, they must have gone mad.
As we tried to remove the lazy sheet (sheet line that is not under pressure) of the big red thing (the gennaker sail) I hit my head on a sharp piece of metal sticking out from the bimini. Ouch! blood. But our well stocked first aid kit had some Chinese miracle medicine. Once you apply the liquid to a wound it clots up within minutes. It is only 4 years expired, but it still works like magic.
Another glorious sunset closed the day. Our first mate made some pasta, I made some water, and Linda heated up the leftovers.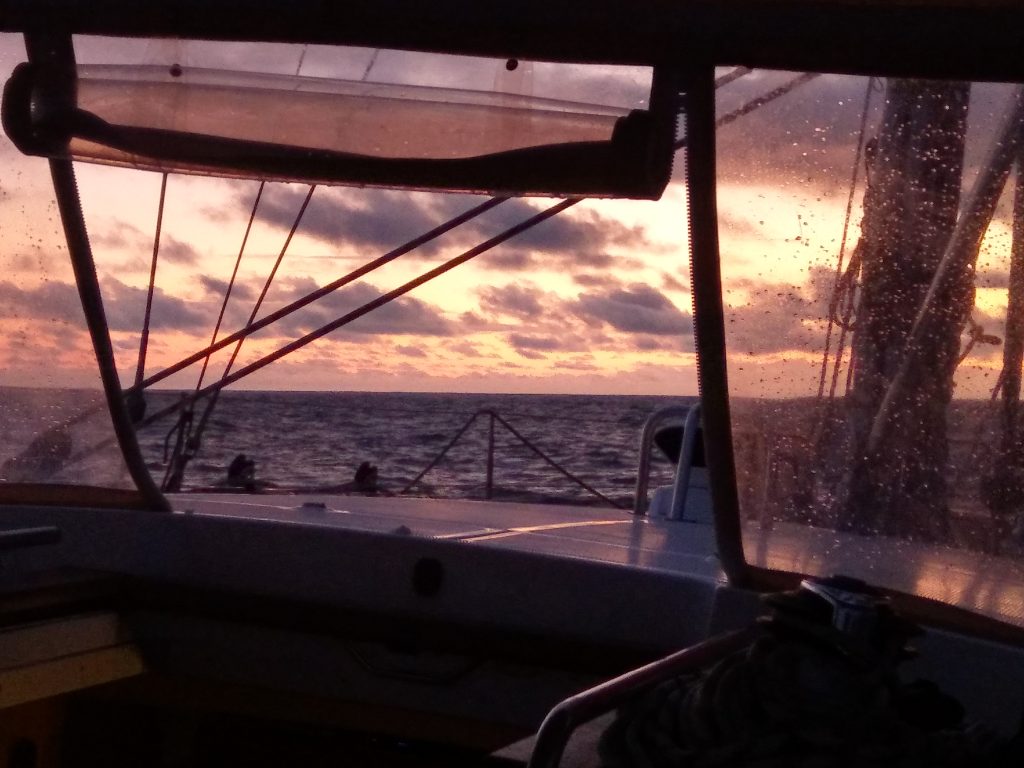 ---