It has been a year since the start of our expedition to bring Ah Ma home. We started last year, early January out in Curacao, preparing Ah Ma for the long sail across the Pacific to her new home in Asia. She was lying pretty in a sun-drenched marina within an exclusive golf course. Securely behind lock and key, under the watchful eye of security and the harbourmaster. She was very much in her element, boasting her teak deck and the longest mast in the marina. But she was itching to stretch her legs and continue the journey that her previous owners had started, a circumnavigation from Europe.., well back to Europe the long way around. After we purchased her we had her cleaned up, slapped on the new name, replaced the broken Bimini, serviced all that is fuelled by Diesel and had the rigging and sails checked and double checked to avoid surprises of that sort along the way.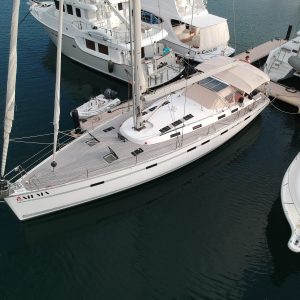 Now, a year later, she is lying pretty in a marina again, some 8000 nautical miles West of where she started. After about 4 months of stressful sailing through a corona invested world Ah Ma is now safely berthed at the Opua Marina, Bay of Islands, New Zealand. As you can read from the previous entries in the blog, that didn't go without any hurdles nor surprises. But we got there, for better or worse.
Most difficult during the passage were the tensions between the hired crew and ourselves. During the long haul from the Galapagos to a then unknown destination emotions ran high. After a lengthy maintenance stay at the Shelter Bay Marina in Colon, Panama, we could finally pass through the canal and push on to the Galapagos. There, we were literally kicked out of the Island during the early days of lock-downs and other Corona madness. At that time the world had no clear view of what we were dealing with, so panic and uncertainty was the status quo. Now, after almost a year, we do know that Corona is not the killer virus everyone feared. But still our world is governed by unfounded fear and the unwillingness to look at simple facts. And in the meantime the great reset agenda is being pushed in a hurry under the cover of the 'Corona Pandemic' that keeps us hostage.
In April last year we had to leave Galapagos in a hurry, we had no clear view of where to go other than West. Maybe the Marquesas, maybe Tahiti but in the worst case, all the way to New Zealand, a journey that would at least take 50 days. For the crossing of the Pacific and bringing Ah Ma to Asia we hired a skipper to help to navigate the for us then unknown waters. He would also use this time to teach Linda and me the finer arts of sailing. He had years of experience taking yachts from New Zealand to Asia or the US. Unfortunately, our skipper went from being a mild germaphobe before the journey started to a right-out neurotic lunatic as time progressed. At some point he envisioned the boat being boarded by pirates and sincerely thought we were in the last episode of humanity on earth. That combined with his profound dislike for almost any human being, especially those that enjoy the finer things in life, made him unbearable at times. I was warned about his demeanor by our first crew member that joined us from Curacao to Colon, but at that time I still had faith that general sailor comradedry would prevail once we would hit the open oceans which he called his home.
Why take Ah Ma to New Zealand you might ask? Why not keep her in French Polynesia and sail between the azure blue Atolls and green mountain islands. We were told by our skipper that it would not be safe to leave Ah Ma in Tahiti or the Marqueses for too long due to the imminent threats of Hurricanes or Cyclones in that area. Little did we know that this was very much another unfounded fear. There are indeed a great many Cyclones in the Pacific each year, but rarely they come up all the way to Tahiti, and even if they would, the city Marina and probably most of the anchorages in the lagoons behind the reefs would provide good protection against the worst of it.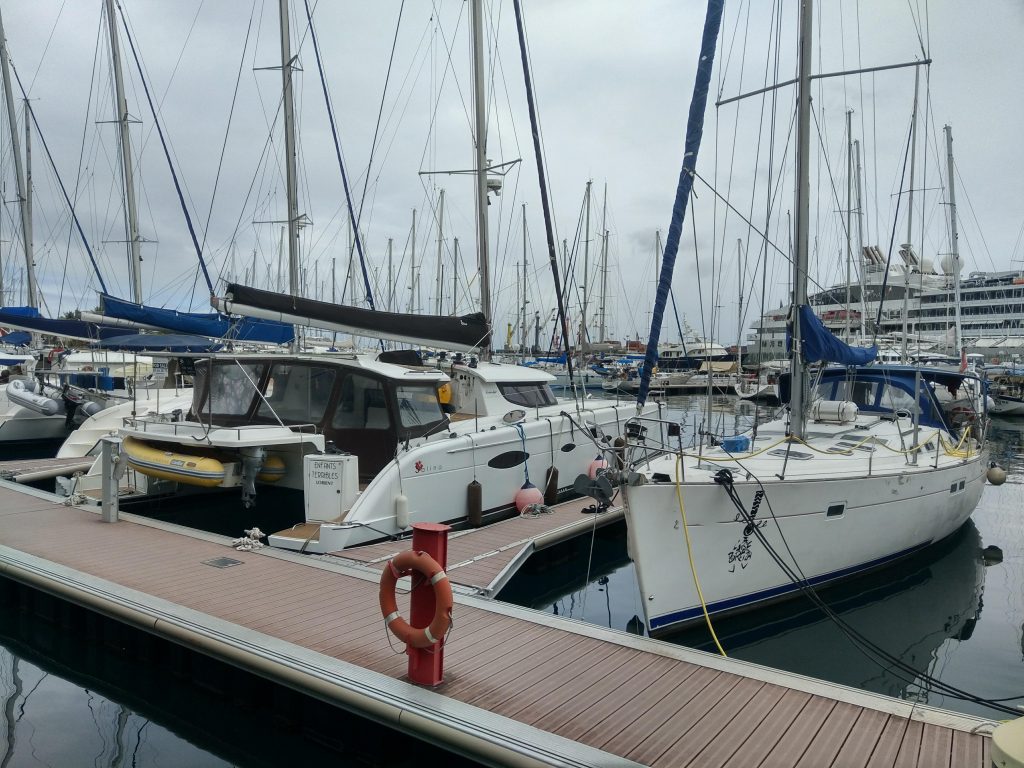 But hindsight is a beautiful thing, so in our unknowingness we agreed to the crew sailing Ah Ma to New Zealand and put her in a safe Marina. It would also provide for a ride home for our first mate, a close friend of the skipper, but a completely opposite personality. He was a Kiwi, and would therefore be able to sail Ah Ma into New Zealand waters and get past the then already ridiculous lock-down regime.
During our crossing of the Pacific, our family and friends sent us droplets of news through our satellite internet thingy. We got some information about the ever changing world on the hard. It turned out that we could land in Tahiti, or the Marquesas for that matter, roughly two thirds of the way down to New Zealand. For my wife, who was kind of stuck in between my frustrations and the skippers neurotic behaviour this would be a welcome relief. She was only supposed to join us for 2 or 3 weeks, doing the fun stuff like going through the Panama canal, sailing to the Galapagos and from there flying back to Hong Kong or Macau. But as Ecuador locked down its borders and therefore the Galapagos were isolated, her only option was to come with, and cross the Pacific with us. She became a full part of the crew, fearlessly taking solo night watches and doing her part to keep the boat going West. Without her on board I would probably have 'lost' a certain person half way down the Pacific, hey accidents happen…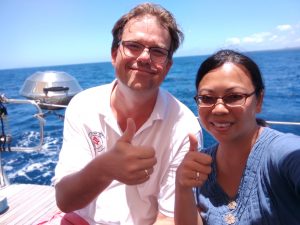 In any event, the affairs of the crossing and preparations are written out in detail in the previous blog entries. So for those that are interested, have a read through.